This Salisbury steak recipe is made of seasoned ground beef, eggs, and Italian bread crumbs. It's formed into a steak-like patty and smothered in a delicious mushroom gravy. This dish will become your favorite way to use ground beef!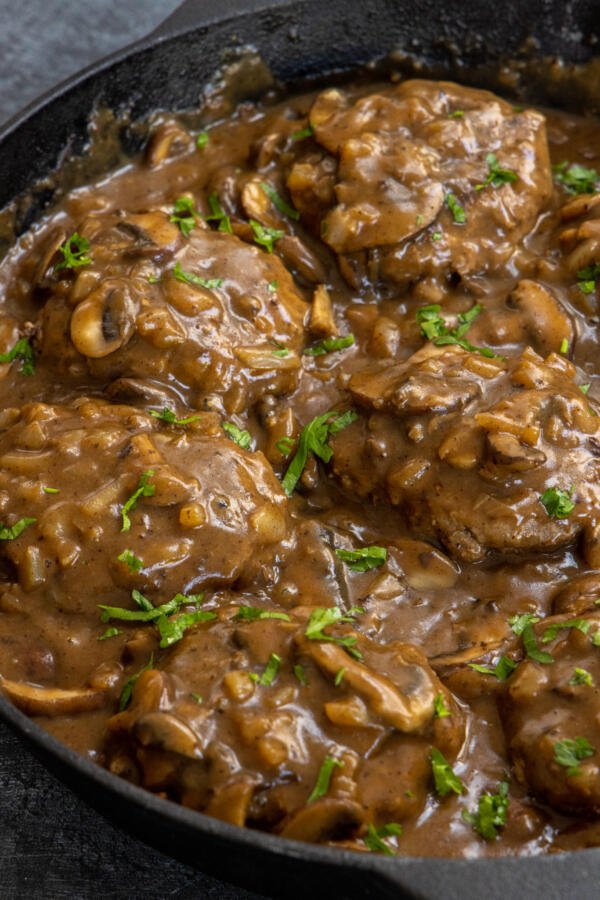 My mom's giant-sized kotleti (Russian meatballs) were very similar to the savory flavor of Salisbury steak. They were also served with gravy and hearty buckwheat. Every time I make this Salisbury steak recipe, it hits home with its nostalgic flavors.
What Is Salisbury Steak?
Salisbury steak is a flavorful blend of ground beef and seasonings formed into steak-like patties. It's cooked in a mushroom, onion, and beef broth gravy. The Salisbury steak is rich in savory flavor yet tender in texture. Between the juicy patty, caramelized onions, and mushroom gravy, the steak is hearty and satisfying.
The steak's name comes from its inventor — Dr. James Henry Salisbury. He proposed this steak to improve the soldiers' diet during the Civil War and since then, it's been a favorite American dish.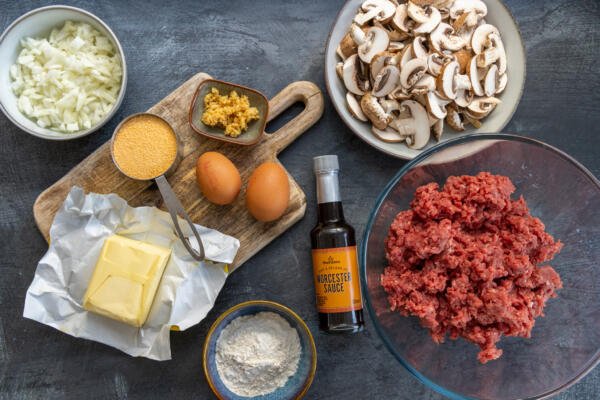 Salisbury Steak vs Hamburger Steak
Salisbury steak and hamburger steak are very similar. They both consist of ground beef formed into patties and served with gravy. Depending on the recipe, you may find very few differences. However, hamburger steak patties are commonly seasoned with only salt and pepper. In comparison, Salisbury steak patties include eggs, breadcrumbs, and more flavors.
How To Make Salisbury Steak
This easy Salisbury steak recipe comes together in a few simple steps. First, make the patties and the sauce, then combine the two for a flavorful, easy entrée!
Prepare the Patties
Make the beef patties: Place all the patty ingredients in a bowl and use your hands to mix everything together.
Shape the patties: Divide the meat mixture into eight equal parts and form oval shapes.
Brown the patties: Heat a deep skillet with oil on medium-high heat. Brown all sides of the patties and then set aside.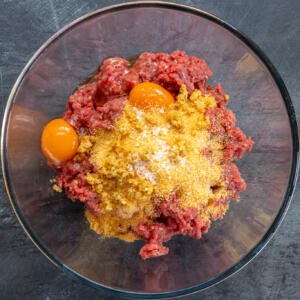 Make the Sauce
Sauté the onions: In the same pan, sauté the onions until softened and lightly golden.
Toss in the mushrooms: Add in the mushrooms and cook until they are golden in color.
Add in the other ingredients: Mix in the butter and flour and cook for a few minutes. Pour in the beef broth and Worcestershire sauce and stir until the liquid is perfectly creamy.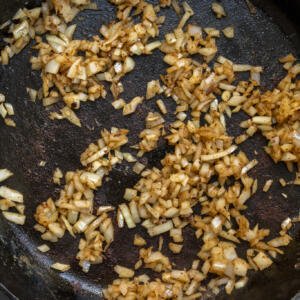 Combine the Patties With the Sauce
Add the beef patties to the sauce: Add the patties into the sauce and simmer for an additional five minutes or until the patties are cooked through.
Serve: Serve immediately with your favorite sides and enjoy.
Hot tip: Feel free to replace the flavor of Italian bread crumbs with your favorite bread crumbs.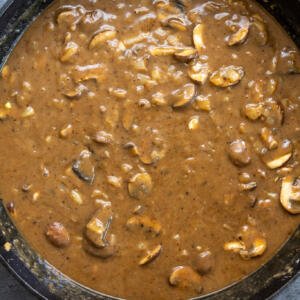 Tips for a Flavorful Salisbury Steak
Perfect the texture and flavors of Salisbury steak with a few simple tips. These tips will ensure the steak satisfies your taste buds.
Use lean beef (90% or leaner): Lean ground beef has a firmer texture which helps hold the patty shape.
Add more broth as needed: If the gravy is too thick, add a splash of broth to thin it out to the desired consistency.
Season to taste: Depending on the broth you use, you may need to adjust the amount of salt and pepper.
Substitute with any bone broth: Any broth is excellent in this recipe! Make our best bone broth or turkey bone broth for homemade flavor. Or, make it uber easy with this Better Than Bouillion chicken base.
Avoid overworking the patties: There's no need for perfectly shaped patties. Avoid overworking them to ensure the patties are light and fluffy.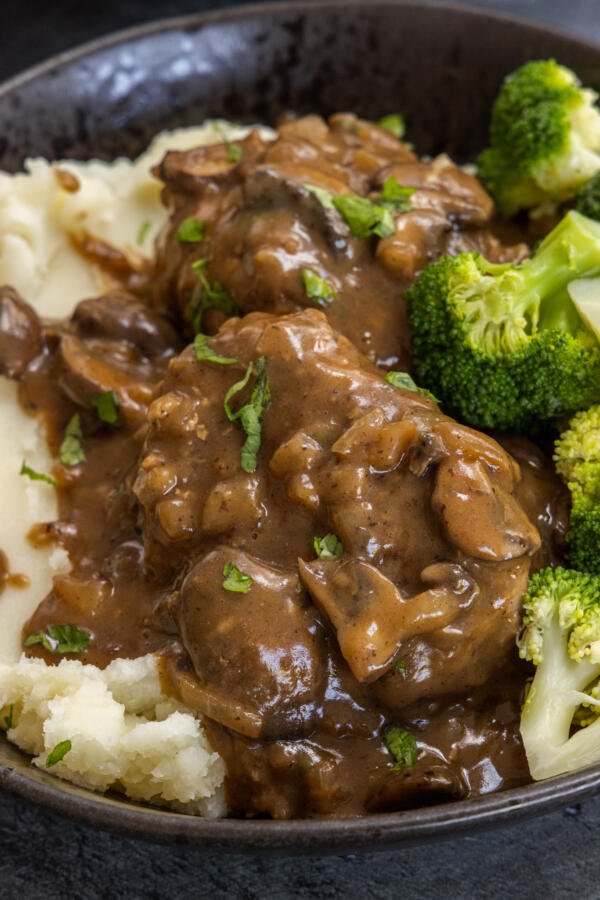 Ways to Serve
Salisbury steak is a classic comfort food appreciated as a weeknight or special occasion dinner. Serve it alongside your favorite sides for a wholesome, well-balanced meal. For the ultimate comfort food combination, pair the Salisbury steak with easy mashed potatoes. Basmati rice, egg noodles, or homemade pasta are also great options. Complement the rich Salisbury steak flavor with the light refreshing flavor of a green cabbage cucumber salad with herbs or broccoli, cucumber, and tomato salad.
Storage & Reheating
If you're lucky enough to have leftovers or wish to meal prep — here's how to properly store and reheat the Salisbury steak for optimal flavor.
Refrigerating: To store for up to five days, place the cooked steak and gravy in an airtight container in the fridge.
Freezing: To store for up to two months, freeze the cooked steak and gravy in an airtight, freezer-safe container.
Reheating: The best method to reheat Salisbury steak is on the stove. Place the steak in a skillet and warm over medium heat. Or for a faster option, reheat in the microwave at one-minute intervals until warm.
FAQ
What kind of steak is Salisbury made of?
Salisbury steak is actually not made from steak — rather, it's made from ground beef that is shaped into steak-like patties.
What is the difference between Salisbury steak and Swiss steak?
Salisbury steak and Swiss steak differ in that Salisbury steak is made with ground beef, whereas Swiss steak is made of steak.
Is Salisbury steak technically a hamburger?
Although Salisbury steak technically is a hamburger patty, it differs because it's cooked in gravy, whereas burgers are not.
More Beefy Recipes
Recipe
This Salisbury steak recipe is made of seasoned ground beef, eggs, and Italian bread crumbs. It's formed into a steak-like patty and smothered in a delicious mushroom gravy. This dish will become your favorite way to use ground beef!
Ingredients
Patties
1 1/2

lbs

lean ground beef

2

large eggs

1

tbsp

Worcestershire sauce

1/2

cup

Italian bread crumbs

3

garlic cloves

minced

1

tsp

onion powder

1

tsp

salt

adjust to taste

2

tbsp

oil

avocado or olive, for frying
Nutrition Facts
Salisbury Steak Recipe
Amount Per Serving
Calories 283
Calories from Fat 135
% Daily Value*
Fat 15g23%
Cholesterol 109mg36%
Sodium 728mg30%
Potassium 595mg17%
Carbohydrates 12g4%
Protein 24g48%
Vitamin A 251IU5%
Vitamin C 3mg4%
Calcium 44mg4%
Iron 3mg17%
* Percent Daily Values are based on a 2000 calorie diet.