These tender, caramelized roasted baby carrots are the perfect veggie side dish. They're unbelievably tasty and easy to prepare — you'll be making this recipe on repeat!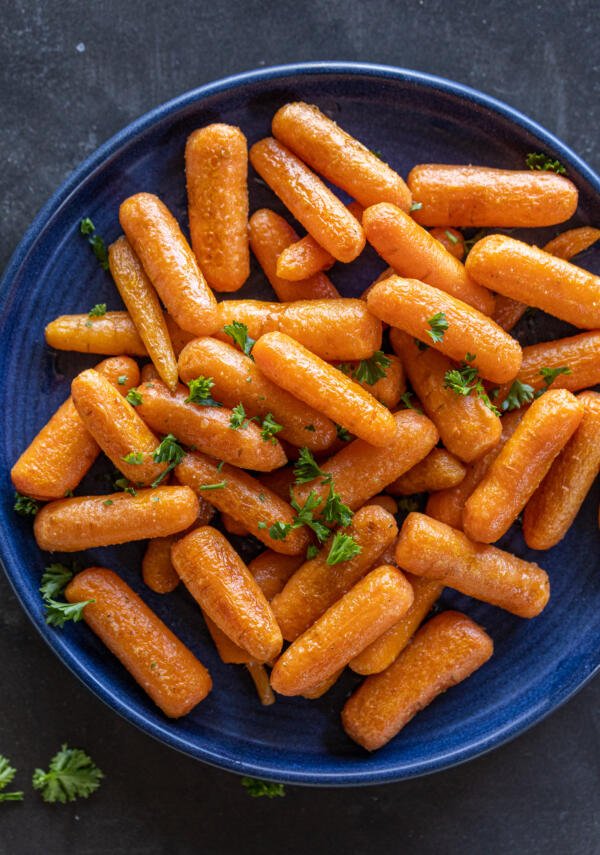 Baby Carrots Vs. Baby-Cut Carrots
Is there really a difference between baby carrots and baby-cut carrots? Let's clear up potential confusion between these two to help you pick the best carrots.
Baby carrots: True baby carrots are carrots that are immaturely harvested, keeping their "baby" size. Because they are younger, baby carrots are slightly sweeter than fully mature carrots. They are usually sold in a bunch at a farmer's market stand.
Baby-cut carrots: Baby-cut carrots are typically marketed in supermarkets as baby carrots. However, this variety is actually regular carrots that have been peeled, cut, and polished into smaller shapes. Baby-cut carrots have an identical taste to fully mature carrots, but many people prefer them for their convenience.
How To Make Roasted Baby Carrots
Do you have 25 minutes to spare? That's all it takes to season these carrots, roast them to perfection, and serve them as the most delicious side dish.
Preheat the oven: Preheat the oven to 425°F. Place the carrots in a 9×13 inch baking sheet.
Season the carrots: Toss the carrots with salt and olive oil until evenly coated.
Roast the carrots: Bake the carrots for 20 minutes, tossing them halfway through. Enjoy!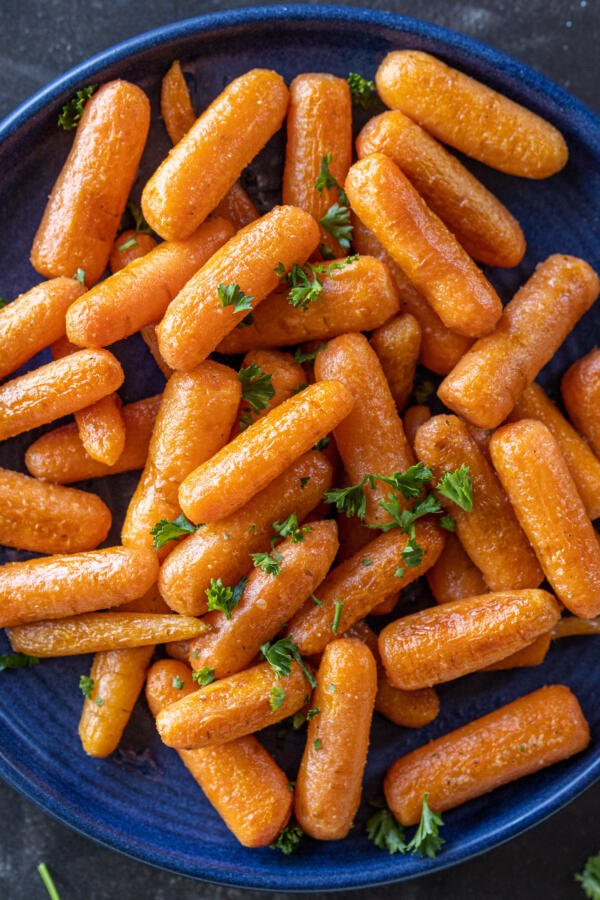 Flavor Variations
Life is far too short to hold back on the seasoning. Go bold with any of these flavor variations to personalize these roasted baby carrots to your liking.
Sweet: Toss the carrots with honey, brown sugar, or maple syrup for a sweet, caramelized flavor. Add a pinch of cinnamon for a hint of warmth.
Smoky: Introduce savory complexity with a dash of smoked paprika and cumin.
Herby: Add a spoonful of basil pesto for a healthy pop of green. Or, sprinkle your favorite fresh herbs like rosemary, dill, thyme, sage, or parsley.
Garlicky: Minced garlic pairs wonderfully with roasted carrots, adding a sharp, umami flavor.
Tangy: Brighten the flavors with a drizzle of balsamic vinegar or a squeeze of lemon juice.
Spicy: Add freshly ground black pepper and red pepper flakes for a spicy twist.
Tips From the Kitchen
Do you want to know the secret to perfectly roasted baby carrots? Here are a few tips to guide you in the direction of tender, juicy, and irresistible carrots.
Arrange the carrots in a single layer. This encourages even roasting so you don't end up with under-cooked carrots.
Toss the carrots halfway through baking. A quick toss also ensures the carrots roast evenly and get golden-brown on every side.
Adjust the cooking time. The size of the baby carrots determines the cooking time. If the carrots are not fork-tender in 20 minutes, roast them for another five minutes or until they are done to your preference.
Garnish with herbs. Fresh herbs take these roasted baby carrots over the top. Scatter any of your favorite herbs (like parsley, dill, or thyme) over the roasted carrots for a color contrast and fresh flavor.
Ways To Serve
Roasted baby carrots are a wonderful vegetable side dish for your dinner table. Display them in a serving bowl and enjoy fresh and hot alongside a roasted spatchcock chicken, creamy mashed potatoes, and a tomato mozzarella salad. Not in the mood for a chicken dinner? Roasted carrots are also delicious with juicy Instant Pot ribs or a roast turkey with boiled corn on the cob. If you prefer a simpler presentation, arrange the roasted carrots over homemade avocado hummus for a dipping treat.
Make-Ahead
Save yourself time at your next dinner party by preparing these roasted baby carrots in advance. Season the carrots and keep them in the fridge — they're even tastier after the wait! When you're ready to eat, pop the carrots in the oven and roast away.
Storing & Reheating
Do you have leftovers? Keep your roasted baby carrots fresh and tasty for days with these storage and reheating tips.
Storing: To store for up to four days, transfer the cooled roasted carrots to an airtight container and refrigerate.
Reheating: To restore the original roasted crispness, reheat your leftover roasted carrots in the oven at 400°F for about five minutes or until heated through. Broil them for an additional minute if you like a bit of char.
FAQ
Why are my roasted carrots tough?
Roasted carrots turn out tough when under-baked. Roast the carrots for at least 20 minutes or until they are fork-tender.
What flavors pair well with roasted carrots?
Roasted carrots are delicious when paired with savory flavors like garlic, parsley, or thyme — or sweet flavors like cinnamon, honey, or ginger.
How long should you roast baby carrots for?
Roast baby carrots for about 20 minutes at 425°F to ensure they turn out tender and caramelized.
More Roasted Veggie Recipes
Recipe
These tender, caramelized roasted baby carrots are the perfect veggie side dish. They're unbelievably tasty and easy to prepare — you'll be making this recipe on repeat!
Instructions
Nutrition Facts
The Easiest Roasted Baby Carrots
Amount Per Serving
Calories 94
Calories from Fat 45
% Daily Value*
Fat 5g8%
Sodium 506mg21%
Potassium 358mg10%
Carbohydrates 12g4%
Protein 1g2%
Vitamin A 20850IU417%
Vitamin C 4mg5%
Calcium 49mg5%
Iron 1mg6%
* Percent Daily Values are based on a 2000 calorie diet.