These air fryer salmon bites are seasoned with lemon, paprika, and garlic parsley salt. They taste amazing with a perfectly crispy exterior and juicy interior.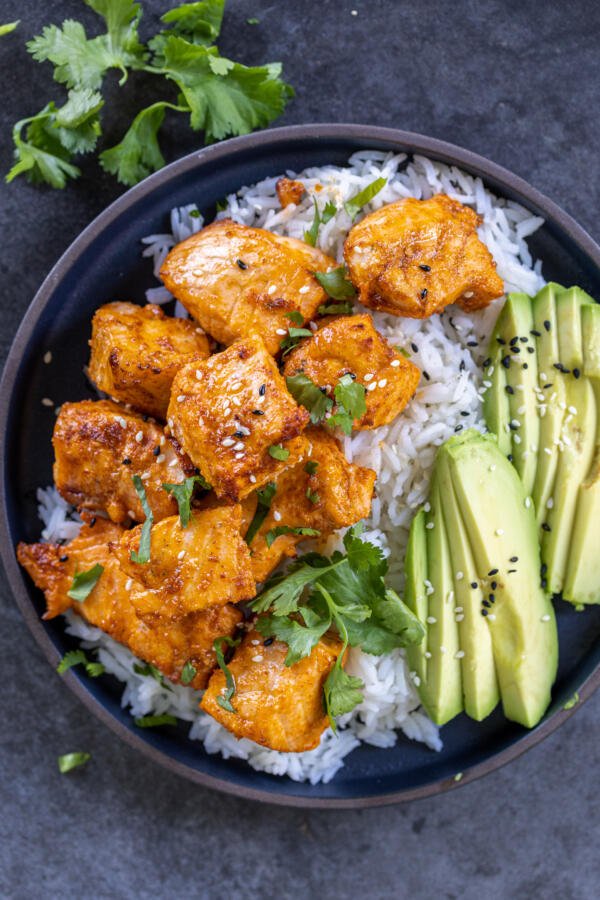 We love making salmon in the air fryer — it cooks the fish perfectly, every time. It's crazy easy to use and gets a tasty dinner on the table quickly. In addition to air-fried salmon, we love air fried cod. We alternate between these two air fried seafood entrees on the regular!
What Are Air Fryer Salmon Bites?
Salmon bites are salmon fillets cut into bite-sized pieces, then cooked in the air fryer. The salmon is seasoned with garlic parsley salt and sweet paprika, then cooked in a speedy ten minutes. After it's done, lemon juice is squeezed over the fish, adding a fresh, citrusy flavor to the tender salmon bites.
How to Make Salmon Bites
All you need to make these salmon bites is a couple of ingredients and an air fryer. The rest is easy.
Cut the salmon: Cut the salmon filets into smaller salmon cubes.
Season the salmon: Season each bite with avocado or olive oil, garlic parsley salt, and paprika.
Position into the basket: Place the salmon in a single layer inside the air fryer basket. Avoid overcrowding the pieces.
Fry the salmon: Air fry for about seven minutes, shaking the salmon in the basket about halfway through.
Drizzle with lemon juice: Remove the salmon from the basket and drizzle fresh lemon juice all over.
Hot tip: To make even, clean-cut salmon bites, use a high-quality sharp knife. Here are our favorite knives.
Flavor Variations
These salmon bites are tender and have a slight citrusy flavor from the lemon juice. For more flavor variations, use these ingredient variations.
Cajun-style: Season the salmon with Cajun seasoning for a sweet and spicy flavor profile.
Honey mustard: Whisk 1/4 cup of dijon mustard with three tablespoons of honey. Brush the tops of the salmon with the mixture for a sweet and salty fillet.
Soy sauce: Place raw bites in a marinade with soy sauce or coconut aminos (for a gluten-free option). Add garlic powder for extra flavor. Marinate for no longer than 30 minutes.
Teriyaki sauce: Marinate the salmon bites in teriyaki sauce for a sweet and salty flavor. Or, glaze the salmon with the sauce after it's cooked. (Make sure not to use the same sauce that marinated the raw salmon!)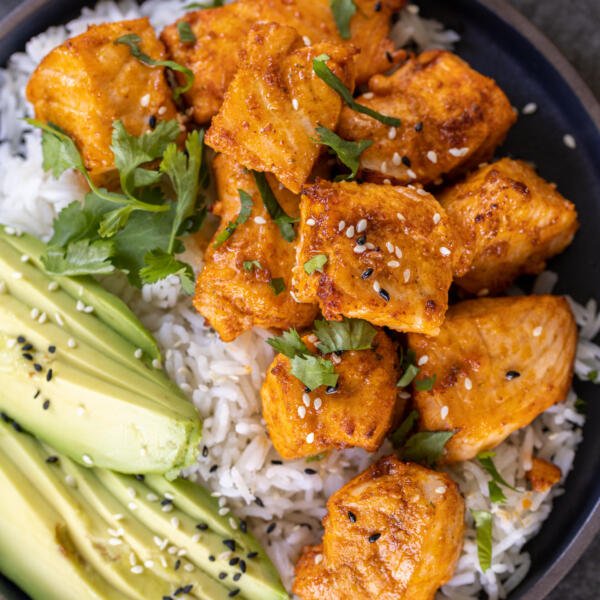 Build a Salmon Bowl
These salmon bites are the perfect base for a salmon bowl, similar to our california sushi bowl. Here are ideas of how to build your salmon bowl.
Topping: On top of the base, add pickled onions or pickled jalapenos. If you like fresh veggies, add sliced cucumbers, avocados, and shredded carrots.
Sauce: Top it off with a tasty sauce like our china coast dressing, spicy mayo, or soy sauce.
Garnish: Complete the bowl with toasted sesame seeds and green onions.
Tips from the Kitchen
To avoid any surprises and ensure the best salmon bites, follow these tips.
Cut into equal sized pieces: To make sure the salmon cooks evenly, cut each filet into smaller equal sized pieces. One inch cubes are our favorite.
Check salmon temperature: Some air fryers cook quicker than others, so check the salmon temperature with a thermometer. Salmon is ready when the internal temperature reaches 140°F.
Choose skinless salmon: To make it even easier, use skinless salmon. If skinless is unavailable, remove the skin from the flesh prior to air frying.
Avoid overcrowding the basket: For crispy salmon bites, space the salmon bites out in the basket, so the air will circulate around all of the bites in the air fryer. This will result in a crispy outside without overcooking the inside.
Shake the basket: Shake the basket mid-way through cooking to ensure even crisping and cooking of the bites.
Use sweet paprika: Sweet paprika has a sweeter, slightly fruity flavor with a hint of pepper compared to regular paprika. In a pinch, regular paprika works well, too.
Ways to Serve
Other than using the salmon bites to make a salmon bowl, serve the bites as an appetizer, entree, in a salad, or in a sandwich.
Storage Tips & Reheating
In the unlikely event of salmon bite leftovers, follow these storage and reheating tips for the best flavor the next day.
Refrigerator: To store for up to three days, place salmon bites in an airtight container in the fridge. Keep in mind salmon does have a tendency to dry out in storage, so the longer it is stored, the drier it gets.
Reheating: To reheat the salmon, place it back in the air fryer for 2-3 minutes, or until warmed through. Air frying will bring the crispy texture back. Top it with oil or butter and lemon to add extra moisture.
FAQ
Can you air fry salmon bites from frozen?
It is best not to air fry frozen salmon bites. Salmon thaws relatively quickly, so thaw it before putting it into the air fryer.
Is air fried salmon healthy?
Air fried salmon is certainly a healthier alternative to the traditional frying method.
Can I freeze cooked salmon bites?
Yes, cooked salmon bites can be frozen for up to three months when stored appropriately. However, they have the best flavor when enjoyed fresh.
More Salmon Recipes
Recipe
These air fryer salmon bites are seasoned with lemon, paprika, and garlic parsley salt. They taste amazing with a perfectly crispy exterior and juicy interior.
Ingredients
2

lbs

salmon filet

1

tbsp

oil

avocado or olive

1/2

tbsp

garlic parsley salt

1/2

tbsp

sweet paprika

1/2

lemon

juiced
Nutrition Facts
Air Fryer Salmon Bites
Amount Per Serving
Calories 359
Calories from Fat 162
% Daily Value*
Fat 18g28%
Cholesterol 125mg42%
Sodium 973mg41%
Potassium 1150mg33%
Carbohydrates 2g1%
Protein 45g90%
Vitamin A 525IU11%
Vitamin C 7mg8%
Calcium 33mg3%
Iron 2mg11%
* Percent Daily Values are based on a 2000 calorie diet.