Need a tasty way to use up your sourdough starter? What better to make than soft sourdough English muffins. So simple & perfect for breakfast sandwiches.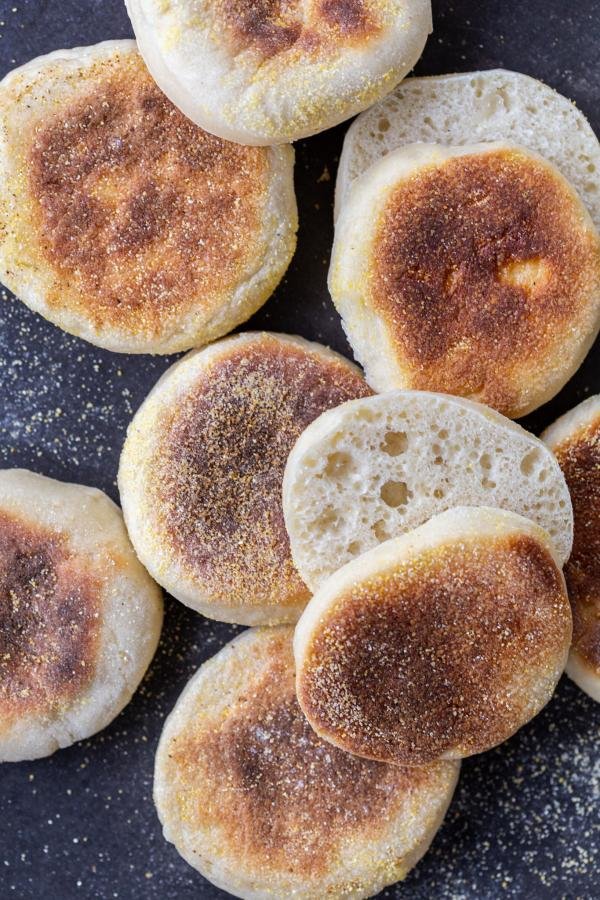 These tasty sourdough English muffins are fluffy, slightly chewy, and they store so well. Made with sourdough starter, each nook and cranny touts a lovely tang. For this recipe, you don't even need to bust out your stand mixer and dough hook – the simple dough can be made in a standard mixing bowl!
What if you don't have a sourdough starter? That's perfectly fine! You can order a live starter on Amazon.
Preparing this Sourdough English Muffins Recipe
You don't have to turn the oven on at all to make these sourdough muffins. All you have to do is prepare the dough, have some patience to let it rest, and cook the muffins on the stove top!
Hot Tip: If you want to bake your English muffins instead of pan-frying them, snag some of these nifty English muffin rings and pop them on a cookie sheet or baking sheet lined with parchment paper instead.
3 Tips for the Best Homemade Sourdough English Muffins
If it's your very first time making homemade sourdough English muffins, these pointers will help you nail the process down.
Hot Tip: If you want to make whole wheat sourdough English muffins instead, we suggest using half white flour and half whole wheat flour to prevent them from being too dense.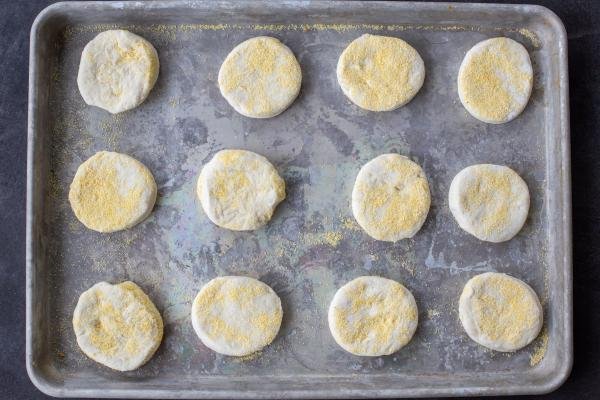 Different Breakfast Sandwich Ideas
While sourdough English muffins are wonderful with just butter, jam, or honey, you can use them to make some seriously tasty breakfast sandwiches. Here are a couple of our favorite flavor combinations.
Storage Best Practices
To keep your muffins fresh for up to a week, store them in an airtight container on the counter. This will prevent them from drying out and turning stale. If you want them to last even longer, pop the into the fridge. Or, you can freeze them for up to 3 months in a ziplock bag.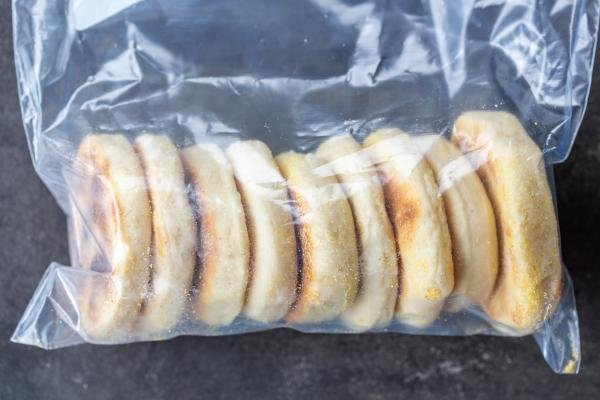 FAQ
Are English muffins typically made with sourdough starter?
No, English muffins are typically not made with sourdough starter. That said, adding in the starter gives the muffins such a nice tang and depth of flavor.
Are sourdough English muffins better for you than bread?
While sourdough English muffins typically have fewer calories than bread, they are still full of carbs. That said, they are good for you in moderation and if you make them homemade you nix all the extra preservatives.
What kind of flour should you use for sourdough English muffins?
You should use regular all-purpose flour for sourdough English muffins. There's no need to use bread flour, as it's a bit too fine and won't result in the same texture. When picking up your flour, opt for a high-protein brand like Bob's Red Mill or King Arthur.
Are sourdough English muffins gluten-free?
No, sourdough English muffins are not gluten-free. They are made with all-purpose flour which contains wheat. You can make them with gluten-free flour, but the texture will be much denser.
Can sourdough English muffins be frozen?
Yes, sourdough English muffins are perfect for freezing. To do so, allow them to cool down completely first and wrap them individually in plastic wrap. Pop the muffins into a freezer-safe bag and keep them on hand for up to 3 months. To thaw, simply place them on the counter for a couple of hours or pop them straight into the toaster.
More Tasty Sourdough Recipes to Try
Recipe
If you're a big fan of breakfast sandwiches, this recipe for sourdough English muffins has your name written on it. Great for using up sourdough starter!
Nutrition Facts
Sourdough English Muffins (Crazy Easy)
Amount Per Serving
Calories 211
Calories from Fat 45
% Daily Value*
Fat 5g8%
Cholesterol 12mg4%
Sodium 233mg10%
Potassium 76mg2%
Carbohydrates 36g12%
Protein 5g10%
Vitamin A 150IU3%
Calcium 33mg3%
Iron 2mg11%
* Percent Daily Values are based on a 2000 calorie diet.