This recipe for sourdough sandwich bread always comes out light and fluffy. Use it for everything from grilled cheese, french toast, and even croutons!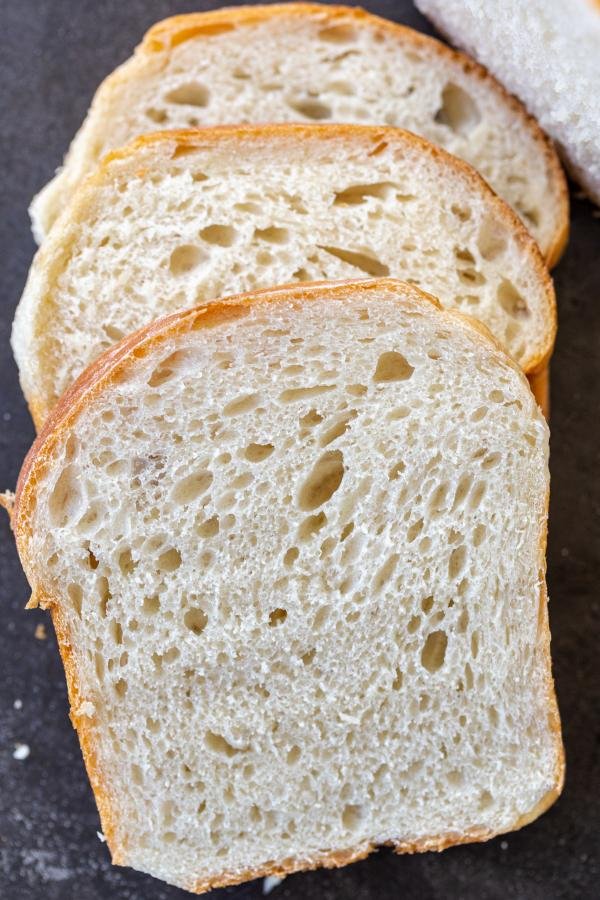 Whether it's summertime picnic season or you're prepping for back to school, there's nothing like having your own, homemade sourdough bread on hand. This recipe yields such a perfect slice and the flavor is neutral for everything from sweet PB&J sandos to savory turkey and pesto sandos. You'll also love the golden-brown crust that forms on top!
Preparing this Super Soft Sourdough Sandwich Bread Recipe
Whipping up this soft sourdough sandwich bread requires you to plan ahead a bit. The bulk fermentation stage takes upwards of 12 hours, so plan accordingly!
Make the Dough: In a large mixing bowl, whisk the water, sourdough starter, and sugar together until dissolved. Add in the flour and salt, cover the dough with plastic wrap, and let it rest for 30 minutes.
Let the Dough Rest: Stretch and fold the dough, cover it with plastic wrap, and let it rest at room temperature for 12 hours.
Divide the Dough: Separate the dough into two equal parts and shape them into rectangles. Press down on the dough with your fingers to get rid of air bubbles.
Shape the Dough: Roll the dough into a log and place it into a greased loaf pan. Repeat with second half of dough. Allow loaves to rise for an hour.
Bake the Bread: Bake the bread at 375°F for 45 minutes. Remove the pans from the oven and brush the tops with butter.
Allow the Bread to Rest: Let the loaves rest for 5 minutes and move them to a wire rack and let them rest for 30 minutes before slicing in. Now it's time to whip up your favorite sandwich!
Tips for Making the Perfect Sourdough Sandwich Loaf
To really nail the texture and taste of your sourdough slices, follow these simple tips from our kitchen to yours.
Use an active starter. For this recipe, you need to make sure that your starter is active. This means that you need to feed the starter about 10-12 hours before using it. If you don't feed your starter, your bread will turn out dense.
Know that the dough will be sticky. The dough should be sticky – don't panic! Make sure you handle it on a well-floured surface and you'll be golden.
Make sure your bread pans are well-greased. Spray your pans with cooking spray oil or coat it generously with butter softened at room temperature. If you don't, the loaves will stick to the pans and fall apart. Here is a guide on our favorite oils to use.
Different sized pans will affect the baking time. Depending on what size of pan you use, you'll have to adjust the baking time accordingly. Larger pans will make the bread cook faster, while smaller and taller pans will cause it to cook slower.
The flour you use makes all the difference. Depending on the brand of flour you use, you may need to extend the baking time. Opt for high-protein flour like Bob's Red Mill Bread Flour for the best taste and texture.
Allow the bread to rest before slicing into it. Give the bread at least 30 minutes to rest on the cooling rack before you attempt to slice into it. This will give it time to firm up so you don't smash it while it's still hot. Also, use a serrated knife to get those perfect slices your looking for.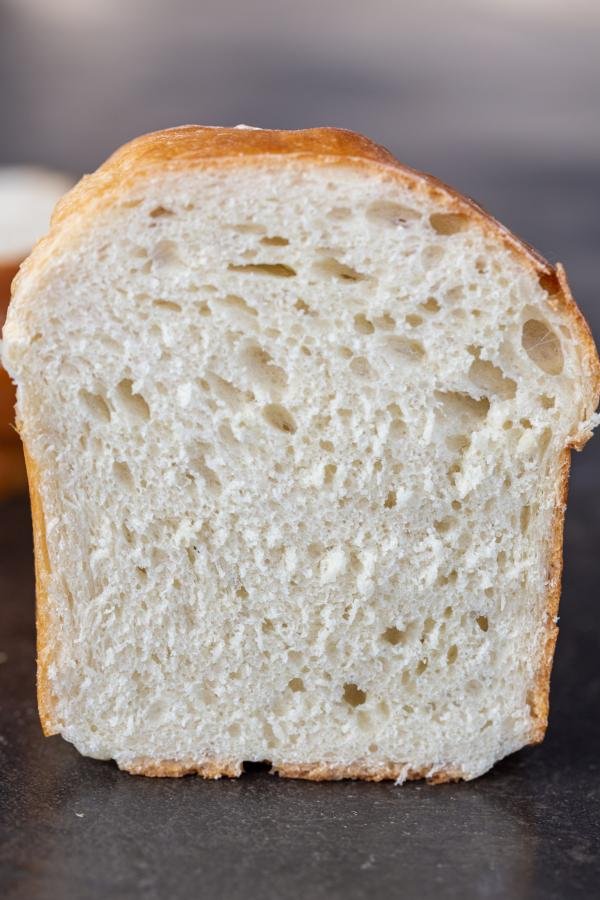 Different Sandwich Ideas
Now for the fun part – using your sourdough sandwich bread to make your favorite sandwiches! Here are a couple of our favorite ways to put it to good use.
Classic Peanut Butter: Whip up a peanut butter and jelly or peanut butter and honey sandwich. Optionally, add in some sliced banana.
Air Fryer Grilled Cheese: Use the sourdough to make a gooey air fryer grilled cheese. If you don't have an air fryer, check out this model from COSORI that we are obsessed with.
Club Sandwich: Make this classic club sandwich loaded with meat, cheese and veggies.
Classic Turkey: Put together a pesto mayo, turkey, havarti, tomato, onion, and lettuce sandwich for your next picnic.
BLT: Whip up some air fryer bacon or baked bacon and sandwich it between the sourdough with mayo, lettuce, and tomato.
Egg Salad Sandwich: Nestle your egg salad between lettuce and slices of sourdough for a protein-packed lunch!
Tuna Melts: Use your favorite canned tuna to make a delicious tuna melt that's ready in minutes!
How to Store Sourdough Sandwich Bread
To keep your sourdough bread as fresh as possible here's all you need to know about storing it properly.
Room Temperature: To keep the bread on hand for up to a week, store it in a bread box or airtight container on the counter. This will prevent it from becoming stale.
Refrigerator: To extend the life of your bread to a couple of weeks, store it in a plastic storage bag in the refrigerator. Of note, bread tends to get a little dry in the cold air of the fridge, so make sure to seal the bag tightly.
Freezer: To keep the bread on hand for up to three months, freeze it. Allow it to cool down completely, wrap it in plastic wrap, and stuff it into a freezer-safe plastic bag. To thaw the bread, place it in the fridge overnight or leave it on the counter for a couple of hours.
Hot Tip: Keep in mind that during the summer months bread can get moldy much quicker.
FAQ
Is sourdough sandwich bread healthier than normal bread?
No, sourdough bread is not really healthier for you than typical bread. While it does tout some benefits from the ferment, it's still a carb and should be eaten in moderation.
What sandwiches are good with sourdough sandwich bread?
Sourdough sandwich bread is good for everything from sweet sandwiches to savory ones. You can make PB&J with it or stack it high with your favorite cold cuts and cheeses. It's also wonderful as toast or french toast.
Will sourdough starter go bad?
If you feed and take care of your sourdough starter properly, you'll never have to throw it away. It continues to grow and develop better flavors with time. Some starters are even up to 100 years old when they are fed regularly!
Can you use whole wheat flour to make sourdough sandwich bread?
Yes, you can use whole wheat flour to make sourdough sandwich bread. That said, it's not recommended to use it solely. To ensure the texture isn't too dense, mix half whole wheat flour with white flour.
What kind of flour should you use for sourdough sandwich bread?
You're going to want to use bread flour when making sourdough sandwich bread. It yields a much lighter and fluffier texture than typical all-purpose flour.
More Tasty Sourdough Recipes
Recipe
Love a good sandwich? It's about time you start making your own sourdough sandwich bread from scratch. This recipe always comes out light and super fluffy!
Nutrition Facts
The Perfect Sourdough Sandwich Bread
Amount Per Serving
Calories 293
Calories from Fat 54
% Daily Value*
Fat 6g9%
Cholesterol 6mg2%
Sodium 456mg19%
Potassium 63mg2%
Carbohydrates 51g17%
Protein 8g16%
Vitamin A 67IU1%
Calcium 12mg1%
Iron 1mg6%
* Percent Daily Values are based on a 2000 calorie diet.