These three-cheese stuffed pasta shells are baked in a hearty meat sauce and topped with melted cheese. This dish is guaranteed to have you coming back for seconds!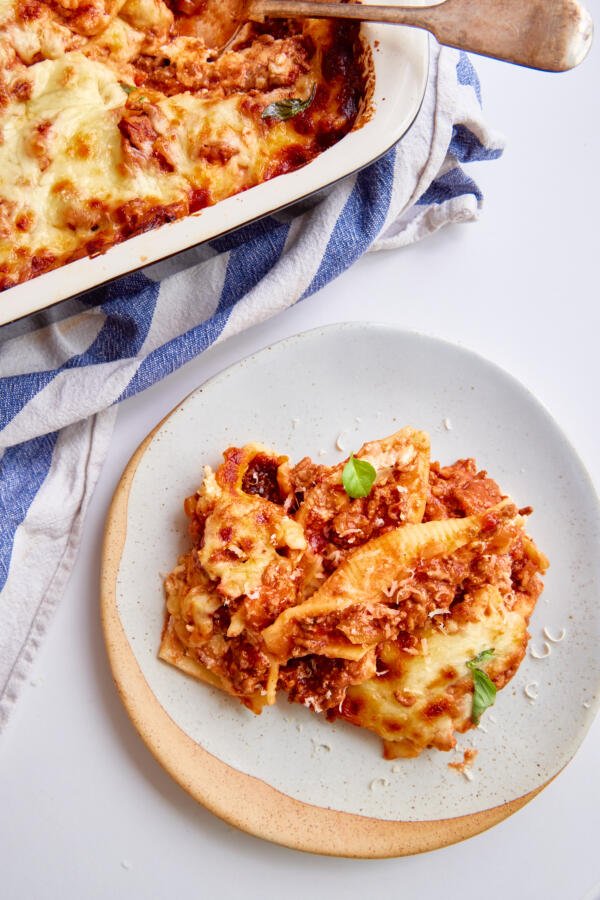 What Are Stuffed Shells With Meat Sauce?
Stuffed shells with meat sauce is an Italian-inspired dish, made of jumbo pasta shells, stuffed with a three-cheese blend. The shells are baked in a savory ground beef tomato sauce and topped with shredded mozzarella cheese, resulting in a bubbly sauce and melty cheese. Stuffed shells with meat sauce mimic the satisfying flavors of lasagna — making it a great addition to your list of comfort foods! If you want a meatless version, try our spinach stuffed shells or ricotta shells instead.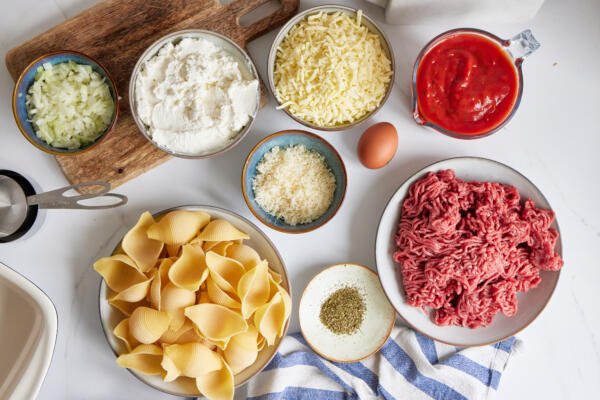 How To Make Stuffed Shells With Meat Sauce
This dish comes together in a few easy steps. You'll enjoy the delicious scent wafting from the oven in no time.
Partially cook the pasta shells: Partially cook the pasta shells in salted water (four minutes less than package instructions). Drain the water and set the shells aside.
Cook the meat sauce: In a preheated skillet, cook the ground beef and add the chopped onion. Pour the spaghetti sauce and stir the meat mixture as it simmers for a few minutes. Turn off the heat and set the meat sauce aside.
Combine the cheese mixture: In a large bowl, mix the ricotta cheese, parmesan cheese, half of the mozzarella cheese, an egg, and the Italian seasoning until well combined.
Assemble the dish: Assemble the dish by first filling the shells with the cheese mixture. Then, spread half of the meat mixture on the bottom of a casserole dish or Staub baking pan. Then, layer the shells on top of the meat mixture, followed by the remaining meat mixture and mozzarella cheese.
Bake and enjoy: Cover the dish and bake for 15 minutes. Then, uncover it and bake for 10 minutes or until golden in color and the cheese has melted. Enjoy!
Hot tip: Some shells tend to break while cooking. That's okay! Stuff the whole shells first, and if needed, use any broken ones for a deconstructed version.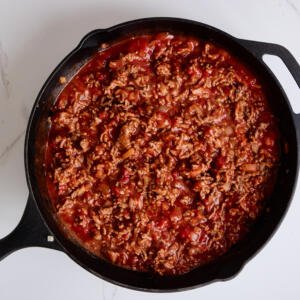 Key Tips for a Delicious Dish
This delicious dish is a crowd favorite! Here are a few key tips that guarantee you'll have people asking for seconds — and the recipe!
Choose the right shells: Choose jumbo-size shells (also called conchiglioni). The larger shells provide a sturdy base that hold the cheese filling.
Undercook the shells: Undercook the shells for a few minutes less than the package instructions. Slightly undercooked shells are easier to stuff without breaking. Also, the shells will finish cooking in the oven.
Spread the meat sauce: Spread half of the meat sauce on the bottom of the pan to prevent the shells from sticking. Then, spoon the remaining sauce over the shells to keep them moist and infused with flavor while they bake.
Bake covered first: Bake the dish covered for the first 15 minutes, then uncover it to achieve a beautiful golden color on the melted cheese.
Garnish with herbs: For a fresh flavor and a pop of color, garnish the dish with fresh basil or parsley.
Grate the cheese: Grate your own cheese for better flavor and more melty cheese. Pre-shredded cheese is often coated with anti-caking agents and doesn't melt as smoothly.
Hot tip: Choose your favorite spaghetti or marinara sauce; both work well in this recipe.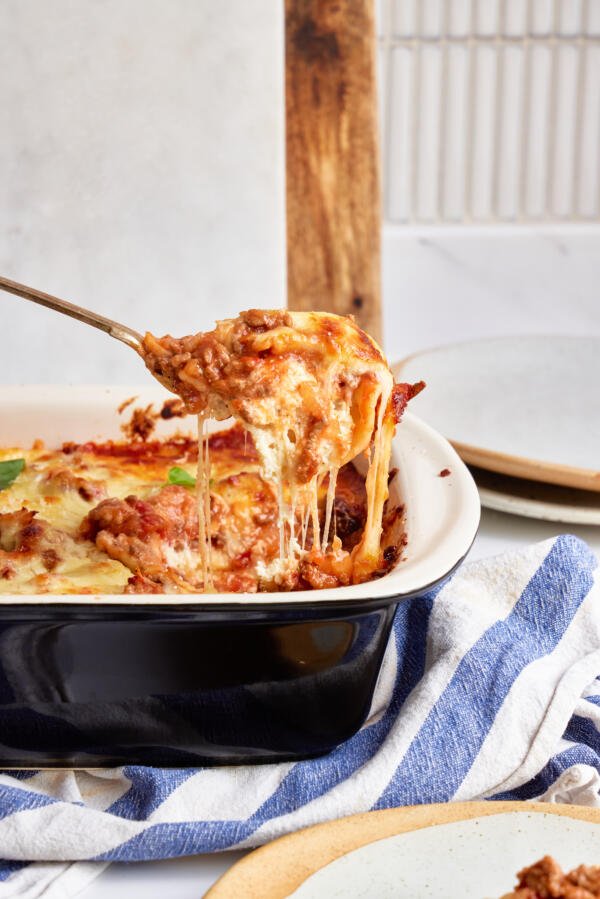 What To Serve With Stuffed Shells
These savory stuffed shells and meat sauce are perfect for casual weeknights or when hosting guests. For a complete, irresistible meal, pair it with classic sides such as salad and bread. A light side salad complements this hearty dish; you can't go wrong with a refreshing garden salad or caesar salad. Dinner rolls, garlic knots, or garlic bread are a must for soaking up the extra sauce on your plate. With a dish this good, every last bit should be savored.
Make Ahead
These stuffed shells with meat sauce are the perfect make-ahead solution for busy nights, hosting, and meal planning. Make the shells ahead of time and then store them either short or long-term!
Short-term: Store it in the fridge for up to one day. Assemble the dish up to one day in advance and keep it covered in the fridge.
Long-term: Freeze the prepared dish for up to three months. For extra convenience, store it in freezer-friendly and oven-safe containers that are safe to go from freezer to oven right away.
Hot tip: When baking from chilled or frozen stuffed shells, the shells may need to bake an extra 10-20 minutes.
Storing Leftovers & Reheating
Consider yourself lucky if you end up with leftovers — they store and reheat well, giving you another tasty meal!
Storing in the fridge: Store leftovers up to four days in an airtight container in the fridge.
Storing in the freezer: Once the pasta dish completely cools, store it in the freezer for up to three months.
Reheating from the fridge: Stuffed shells with meat sauce taste great reheated in the oven, microwave, or stovetop. Use your preferred method and heat until warmed through.
Reheating from the freezer: Reheat the pasta dish in the oven at 350°F until the shells are warmed through.
FAQ
What are the big pasta shells called?
The big pasta shells are called jumbo shells or conchiglioni.
What is the difference between manicotti and shells?
Manicotti and shells differ in their shapes. Manicotti is tube-shaped, whereas shells have a shell-like appearance with an opening down the middle.
What makes stuffed shells watery?
Stuffed shells may be watery due to a watery ricotta cheese. Some brands of ricotta have more water than others. To prevent this, remove excess water by straining the ricotta through a fine mesh strainer lined with a cheesecloth.
More Pasta Recipes
Recipe
These three-cheese stuffed pasta shells are baked in a hearty meat sauce and topped with melted cheese. This dish is guaranteed to have you coming back for seconds!
Ingredients
15

oz

jumbo shells

1

lb

ground beef

85% lean

1

large onion

diced

24

oz

spaghetti sauce

15

oz

ricotta cheese

1/2

cup

parmesan cheese

3

cups

mozzarella cheese

1

tbsp

Italian seasoning

1

large egg
Nutrition Facts
Stuffed Shells with Meat Sauce
Amount Per Serving
Calories 197
Calories from Fat 9
% Daily Value*
Fat 1g2%
Sodium 3mg0%
Potassium 119mg3%
Carbohydrates 40g13%
Protein 7g14%
Calcium 11mg1%
Iron 1mg6%
* Percent Daily Values are based on a 2000 calorie diet.