This recipe for grilled shrimp kabobs features a tangy marinade of lemon juice, Italian seasoning, & minced garlic. Perfect for your next backyard barbecue!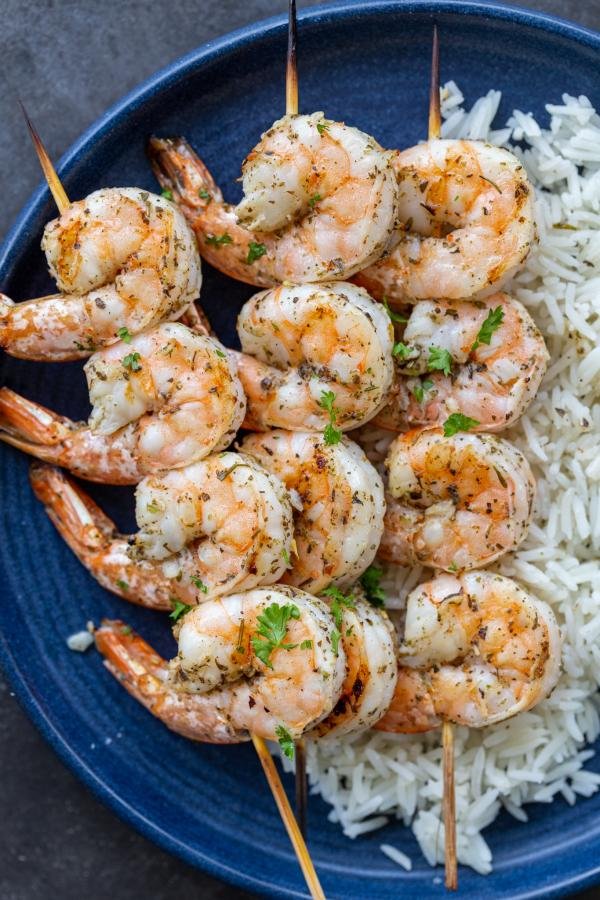 This simple shrimp kabobs recipe only requires 15 minutes of total time to whip up, with just 5 minutes of prep time. This makes it a wonderful option for feeding a large group or for a quick weeknight meal. What's better? The marinade only requires minimal ingredients but provides maximum flavor.
How to Properly Clean Shrimp
Before we dive in, let's cover how to properly devein and clean shrimp. Some of you might have picked up shrimp that are already ready to go, so feel free to move on if this is you!
Slice the Backside: Using a paring knife, cut a shallow incision along the top of the shrimp down to the tail (you can do this with or without the shell).
Devein the Shrimp: Use the tip of the knife to carefully remove the vein.
Rinse the Shrimp: Next, rinse the shrimp in clean water and allow them to rest on a paper towel.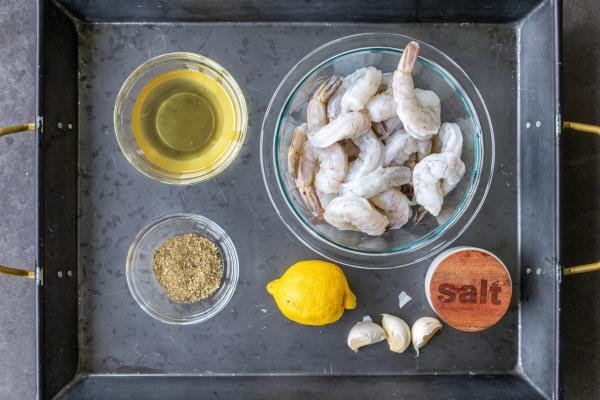 How to Prepare Shrimp Kabobs
Preparing these crazy easy shrimp kabobs only requires a 30-minute marinade and a quick grill.
Prepare the Shrimp Marinade: First, place the olive oil, minced fresh garlic, salt, lemon juice, and Italian seasoning into a large Ziplock bag.
Marinate the Shrimp: Next, add the shrimp into the bag and massage in the marinade, and pop the shrimp in the fridge for 30 minutes.
Prepare the Grill & Skewers: Preheat the grill to 400°F and thread the shrimp onto the skewers. If you don't have a grill, you can always use a grill pan on the stove top.
Grill the Shrimp: Next, grill the shrimp for about 3 minutes per side. Serve immediately and enjoy!
Marinade Tip: Fell free to switch up the marinade as you please. Swap in fresh herbs, lemon zest, lime juice, oregano, red pepper flakes, or whatever else your heart desires.
3 Tips for the Tastiest Shrimp Kabobs
A handful of tips will help you get perfectly juicy shrimp kabobs with those essential grill marks.
Give the shrimp at least 30 minutes to marinade. The shrimp need at least 30 minutes to marinate in the fridge. If you have extra time, you can take this up to 2 hours.
Make sure to leave some space at the bottom of the skewer. To make the skewers easy to flip and hold, make sure to leave a couple of inches of free space at the bottom of the skewer.
Avoid over-cooking the shrimps. Shrimp are prone to overcooking, as they only require a very minimal cook time. Once they turn opaque and pink, they are ready to go!
Hot Tip: Make sure to soak your wooden skewers before popping them on the grill. This will prevent them from burning! If you want, you can also invest in metal skewers to sidestep this issue.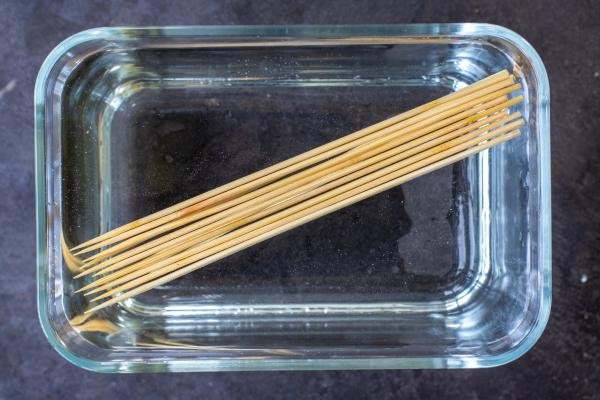 Ideas for Serving Shrimp Kabobs
There's a handful of ways you can serve your tasty shrimp skewers. If you're hosting a BBQ, pair them with your favorite grilled veggies and a massive salad for sharing. We love whipping up grilled zucchini and mushrooms or a berry spinach salad.
Hot Tip: You can alternate the shrimps with a couple of pieces of vegetables for a build inside the dish. We like to use 1-inch pieces of red onion, green and red bell pepper, and whole mushrooms.
Storing & Reheating Tips
To keep the skewers on hand for up to 3 days, store them in an airtight container in the fridge. This will prevent them from drying out, while also preventing the shrimp from smelling up your refrigerator.
Reheating Tip: To reheat the shrimp, pop them in the oven in a baking dish covered with aluminum foil or nuke them in the microwave for 30 seconds.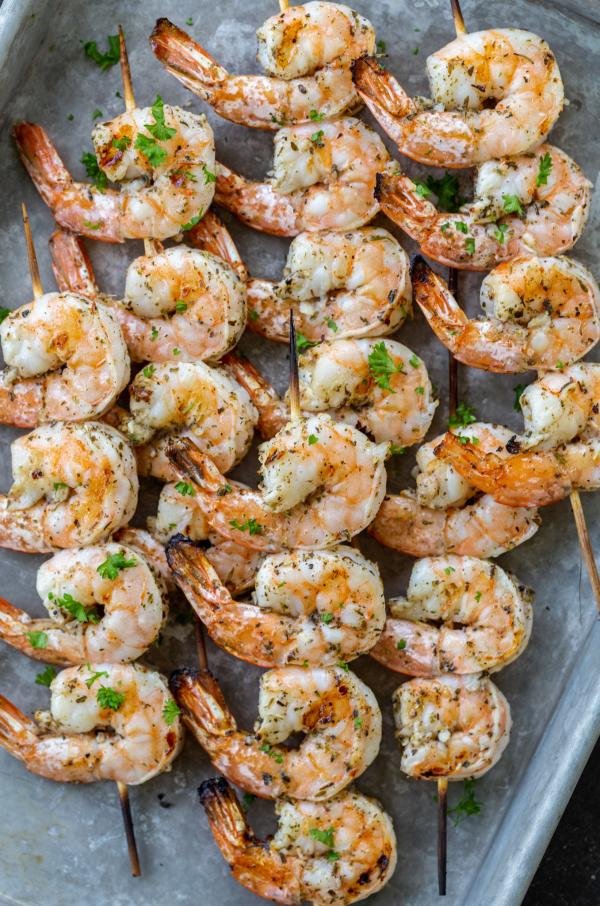 FAQ
Should you use raw or cooked shrimp for kabobs?
It's best to use raw shrimp for kabobs. Using pre-cooked shrimp will almost guarantee that your skewers overcook and turn out rubbery.
Do you take the shell off shrimp for kabobs?
You can grill shrimp with the shell off or on. It's really up to you and comes down to personal preference. That said, it is a bit tougher to skewer shrimp with the shell on, so it's best to use a more sturdy metal skewer.
Can you grill frozen shrimp kabobs?
It's not a good idea to grill frozen shrimp, as they will undoubtedly cook unevenly. It's best to let them completely thaw before adding them to the skewer. To do so, you can thaw them in the fridge overnight or in a water bath in the sink.
Can you eat the shell on grilled shrimp?
Yes, you can eat the shell on grilled shrimp. Many people discard it because they don't like the taste, but it's perfectly safe to eat.
What is the proper way to skewer shrimp?
It's best to skewer shrimp through the very center, at the thickest part. This will help the shrimp say secure on the wooden skewer during the grilling process.
More Tasty Shrimp Recipes to Try
Recipe
These juicy grilled shrimp kabobs are light, refreshing, & packed with flavor. Perfect for everything from backyard BBQs to family parties to low-carb diets!
Nutrition Facts
Grilled Shrimp Kabob Recipe (15 Minute)
Amount Per Serving
Calories 247
Calories from Fat 171
% Daily Value*
Fat 19g29%
Cholesterol 143mg48%
Sodium 1224mg51%
Potassium 158mg5%
Carbohydrates 3g1%
Protein 16g32%
Vitamin A 222IU4%
Vitamin C 4mg5%
Calcium 82mg8%
Iron 1mg6%
* Percent Daily Values are based on a 2000 calorie diet.