These pan-seared scallops will have you wondering why you ever paid an arm and a leg at a restaurant. Crazy easy and decadent!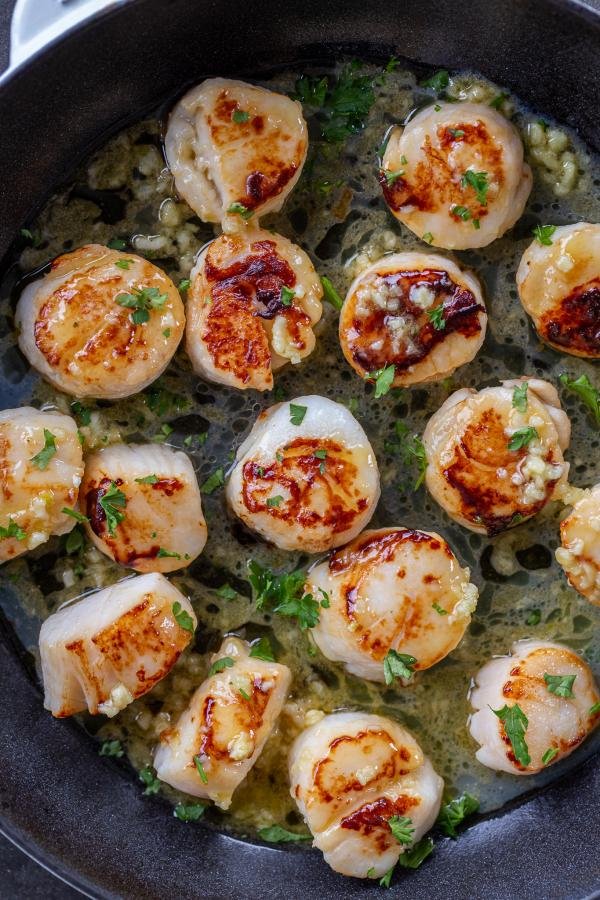 Do you spend a ridiculous amount on scallops at seafood restaurants? Why not whip them up at home?! You will be shocked at how easy they are to sear. A foolproof go-to for everything from date night to special occasions!
Bay Scallops vs. Sea Scallops: Which One Should You Use?
Most scallops fall into two main categories – bay scallops or sea scallops. Here's the lowdown on both types and why we like to opt for bay scallops.
Bay Scallops (Recommended): Bay scallops are smaller in size than sea scallops and tout a more tender meat. They're also less expensive!
Sea Scallops (Runner-Up): Sea scallops are the type you are most likely familiar with, as they are served in restaurants year round. They're chewier in texture to bay varieties and on the more expensive side due to their larger size.
Two Useful Kitchen Tools for Pan-Searing Scallops
Pan-searing scallops is a no-brainer with these two kitchen tools.
Cast Iron Skillet – Cast-iron is by and far the best type of pan to get that signature, golden brown sear.
Kitchen Tongs – A pair of kitchen tongs with a softer, nylon head are perfect for flipping and handling delicate scallops.
Kitchen Tool with an Honorable Mention: If you're unsure if your scallops are safe to eat, use a meat thermometer to check the internal temp has reached 145°F. We give this tool an honorable mention because we prefer not to pierce the pretty scallop!
How to Prepare Pan-Seared Scallops
Dry the Scallops: Blot the scallops dry with a paper towel.
Season the Scallops: Season both sides of each scallop with salt.
Preheat the Skillet: Preheat a skillet with oil until it's sizzling hot.
Sear the Scallops: Sear the scallops for about 60 seconds per side, or until they turn golden brown.
Make the Butter Sauce: Add lemon juice, butter, and garlic to the pan with the scallop drippings. As the butter melts, scrape up the scallop bits and incorporate them into the sauce. Pour the butter mixture over the scallops, sprinkle with parsley, basil, or dill, and enjoy!
Tips & Tricks for Getting the Perfect Sear
To get the perfect sear and golden crust, follow these three tips and tricks.
Pat the scallops dry of all excess moisture. A wet scallop will be impossible to sear. Make sure you pat the scallops bone dry with a paper towel
Sear the scallops quickly over medium high heat. The key the perfect sear is only giving the scallops a quick sear in a hot pan over medium high heat. It shouldn't take longer than a minute per side if the heat is where it should be.
Avoid over flipping. The goal is to only have to flip the scallops one time. Over flipping increases your odds of tearing the delicate meat.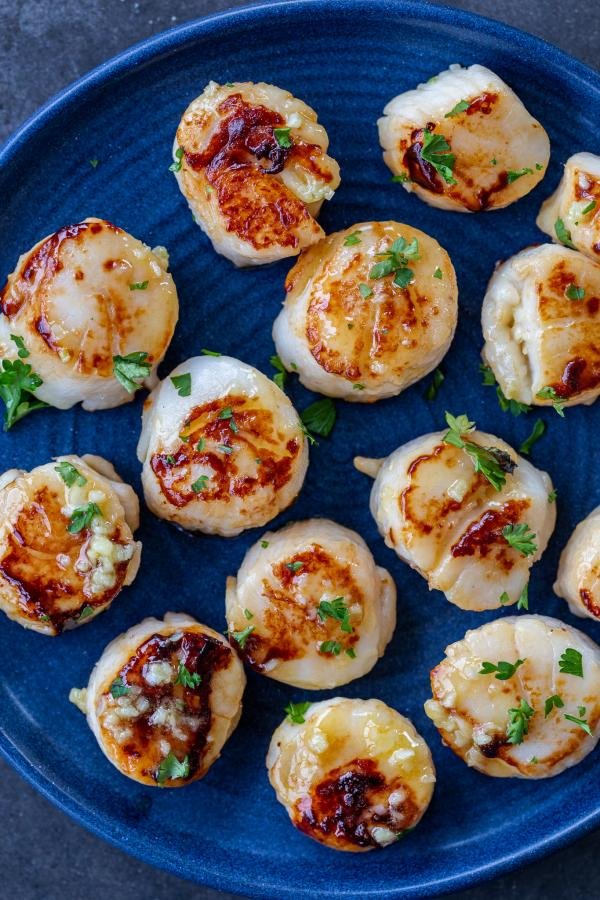 Ideas for Serving Pan-Seared Scallops
For a fancy steakhouse dinner at home, pair your scallop with a cast iron ribeye steak and a side of air fryer asparagus. They are also a wonderful topper for mushroom risotto, alfredo pasta, creamy cauliflower rice, or a homemade caesar salad.
Storing & Reheating Tips
Pan-seared scallops are best eaten fresh and day-of. However, if you have some leftovers here's the best tips for storing and reheating.
Storing: To keep your scallops fresh for 1-2 days after searing, store them in an airtight container in the fridge.
Reheating: Our top recommendation would be to eat the scallops cold, as they are easily overcooked. If you must, pop them back in the skillet with a bit of butter just until they're warmed through.
FAQ
How do you tell if pan seared scallops are done?
You'll know the scallops are ready when they form a golden crust and turn opaque in color.
What is the best oil to for pan-searing scallops?
Olive oil and avocado oil are the best options.
Can scallops be undercooked?
Yes, scallops can be undercooked. You'll know they're not ready if the flesh isn't opaque and/or the internal temperature hasn't reached 145°F.
Do you wash scallops before searing?
If you're using shucked scallops, all they need is a quick rinse under cool water and they'll be clean and ready to use.
How do you prevent your scallops from turning out chewy?
Overcooking scallops is the more surefire way to make them chewy. Avoid this common mistake by watching them closely and removing them from heat immediately after they get a good sear.
More Tasty Seafood Recipes
Recipe
Our delicious pan-seared scallops are quick, elegant, and super fresh. Serve them as a fancy entree or topper for salads or pasta!
Ingredients
1

lb

scallops

1

tsp

kosher salt

adjust to taste

2

tbsp

oil

olive or avocado

5

tbsp

Unsalted Butter

unsalted

3

cloves garlic

3

tbsp

lemon juice

2

tbsp

fresh herbs

parsley or dill
Nutrition Facts
10 Minute Pan-Seared Butter Scallops
Amount Per Serving
Calories 288
Calories from Fat 198
% Daily Value*
Fat 22g34%
Cholesterol 70mg23%
Sodium 1241mg52%
Potassium 315mg9%
Carbohydrates 6g2%
Protein 17g34%
Vitamin A 611IU12%
Vitamin C 8mg10%
Calcium 20mg2%
Iron 1mg6%
* Percent Daily Values are based on a 2000 calorie diet.