This is a classic BLT: buttery toast, juicy tomatoes, crisp lettuce, and smoky bacon. But that's not all… try our variations for a truly unforgettable sandwich.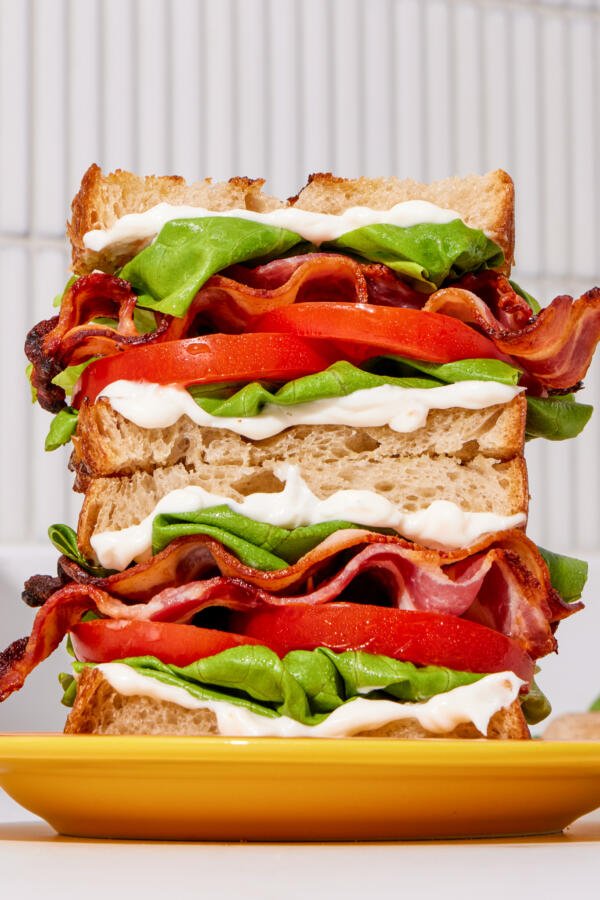 What Is a BLT Sandwich?
A BLT is a sandwich comprised of bacon, lettuce, and tomato, just as the abbreviation suggests. This combination may be simple, but there is a reason it's one of the most popular American sandwiches today. The rich flavor of the bacon perfectly complements the cool crispness of the lettuce and the juiciness of the tomato. Put these fillings between two slices of bread along with a slather of mayo, and you've got yourself a BLT!
The exact origins of the BLT are murky, but it is thought to have first appeared in cookbooks in 1903. The sandwich's popularity skyrocketed in the United States after World War II, as many housewives began to work outside the home and the need for quick, simple meals became widespread. The BLT was the perfect solution. Not only were the ingredients readily available in supermarkets at the time, this sandwich was easy to assemble and great to take on-the-go.
How To Assemble a BLT Sandwich
Get ready to make the best BLT sandwiches in 15 easy minutes! Prepare each of your ingredients separately, then bring them all together and assemble.
Butter and toast the bread: Spread softened butter on both sides of the bread slices, then toast them in a hot skillet.
Cook the bacon: Cook the bacon to your liking using our air fryer method or oven method.
Prepare the veggies: Wash the lettuce leaves and slice the tomatoes.
Assemble the sandwiches: Spread mayo on a slice of bread. Add the lettuce, tomato, and bacon, then top with another slice of bread. Repeat until you run out of ingredients, and enjoy!
Choosing the Right Ingredients
The composition of a BLT is so simple, which means using the highest quality ingredients is key. Here are a few tips to choose the best bacon, tomatoes, and lettuce for your sandwiches.
Bacon: We highly recommend using a smoked bacon in your BLT for a phenomenal flavor, but the cut is up to you. If you like meaty bacon with a chewy texture, use thick-cut bacon. For more crunch, opt for a thinly-sliced, wavy bacon.
Tomatoes: Use ripe, peak-of-the-season tomatoes if you have access to them. Heirloom tomatoes are our favorite variety for a BLT because of their juicy sweetness. Pick firm tomatoes with a deep red color and garden-fresh aroma.
Lettuce: Iceberg lettuce is our usual go-to in a BLT for its outstanding crispness. For a more tender texture and sweet flavor, opt for butter lettuce. If you're looking for the most nutritious option, romaine lettuce is your pick.
Ingredient Variations
Are you bored of the classic BLT and ready to go to flavortown? Jazz up your BLT sandwiches with any of these ingredient variations. You'll never look back!
Meat: Add deli turkey, roast beef, or ham to increase the protein content of your BLT. Grilled chicken or steak are also delicious additions. For a leaner cut of bacon, use turkey bacon.
Cheese: For a grilled cheese BLT, melt a few slices of cheese on the bread while toasting. Spice things up with a slice of pepperjack cheese, or go all-American with cheddar. A wonderful melty option is provolone or Monterey Jack.
Eggs: What goes better with bacon than eggs? Bring on the brunch vibes and slide a freshly fried egg onto your BLT. For a perfectly runny yolk, go with a poached egg.
Veggies: Pack extra nutrition and flavor into your BLT with your favorite veggies. Instead of lettuce, opt for spinach or peppery arugula. Make it a BALT by adding creamy avocado, or layer on pickled red onions for a tangy bite.
Sauce: An herby, creamy sauce is paramount to elevating a BLT. Spread homemade pesto, ranch dressing, or caesar dressing on your sandwich. For a garlicky kick, swap the mayo with garlic aioli.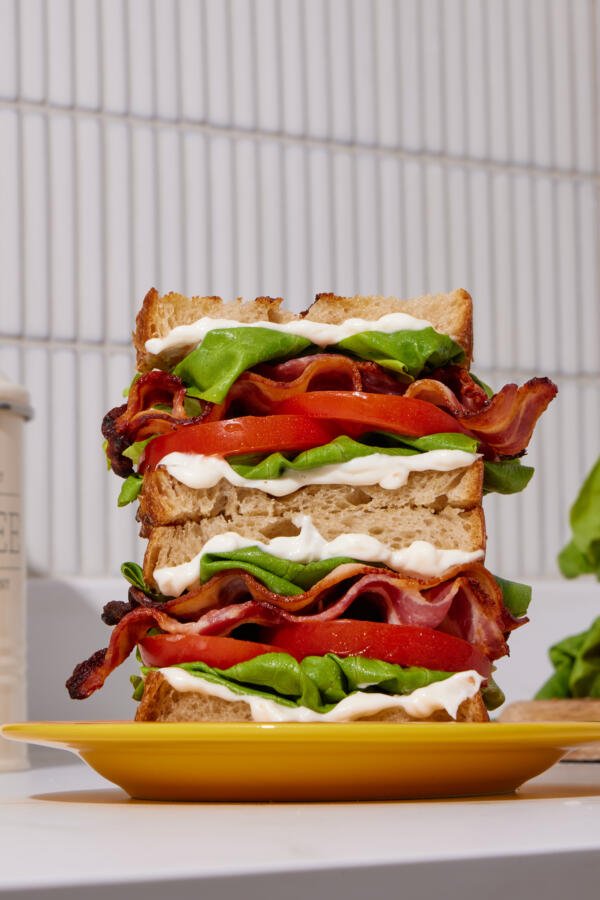 Tips for the Best BLT Sandwich
Psst… do you want to know the secret to creating an unparalleled BLT? We've compiled a list of our favorite hacks to take every element of this sandwich to the next level.
Make your own bread. This is our #1 secret to making the best sandwiches. Nothing compares to the plush texture and fresh taste of homemade bread. Use the perfect sourdough sandwich bread or classic white miche bread as the base for your next BLT.
Toast the bread evenly. Perfectly toasted bread adds flavor and texture to sandwiches. Be generous with the butter and toast the bread over medium heat to avoid burning it.
Use hot, crispy bacon. Hot bacon is a mouthwatering contrast to the cool veggies. Make it extra crispy and less greasy by letting it sit on a paper towel for a few minutes after cooking — the crunch is one of the most important factors in a BLT.
Season the tomato slices. A sprinkle of salt and pepper does wonders for tomatoes, bringing out their umami, sweet flavor.
Place the tomatoes in the middle of the sandwich. Layer the tomatoes between the bacon and lettuce to prevent their juices from making the bun soggy.
Keep the lettuce crisp. To avoid limp lettuce, store it with a dry paper towel to absorb extra moisture. When you are ready to assemble the sandwiches, wash and completely dry the lettuce to preserve its crispness.
Ways To Serve
BLT sandwiches are ideal to serve for lunchtime along with a soup, salad, or side. Bring out steaming bowls of tomato basil soup or minestrone soup to add warm comfort. Get fresh with tomato mozzarella salad or arugula caprese salad, and don't forget the chips! BLT sandwiches pair wonderfully with crunchy potato chips or tortilla chips.
Making Ahead & Storing
Are you planning a picnic or lunch outing? BLT sandwiches are the perfect make-ahead meal to pack. Gather all your ingredients and make sure to bring a cooler for storage!
Making ahead of time: To make a BLT ahead of time, prepare each of the components separately and assemble when you are ready to eat. Cook the bacon, prepare the veggies, and toast the bread in advance to save time.
Storing: Store leftover BLT sandwiches in an airtight bag or container in the refrigerator. They will keep fresh for up to three days, but we recommend eating them immediately for the best taste and texture.
FAQ
What are the correct layers in a BLT?
There is no objectively correct way to layer a BLT, but we like to stack the lettuce on the bottom, tomatoes in the middle, and bacon on the top. Placing the tomatoes in the middle prevents the bread from absorbing their juices and becoming soggy.
What kind of lettuce is best for a BLT?
The best kind of lettuce for a BLT is crisp, cool iceberg. However, the most popular lettuce variety for a BLT sandwich is romaine, since it has big leaves with a mild flavor.
Does a BLT need mayo or mustard?
A BLT does not need mayo or mustard, but it is very common to add condiments to it for more flavor and juiciness.
How do you elevate a BLT?
Elevate a BLT by adding any extra ingredients you love in your sandwiches. Some variations may include adding a fried egg, avocado, deli meat, or aioli sauce.
More Sandwich Recipes
Recipe
This is a classic BLT: buttery toast, juicy tomatoes, crisp lettuce, and smoky bacon. But that's not all… try our variations for a truly unforgettable sandwich.
Ingredients
8

slices

bread

4

tbsp

butter

salted or unsalted, softened

8

tbsp

mayonnaise

16

slices

bacon

2

tomatoes

1/2

head

lettuce
Nutrition Facts
Best BLT Sandwich (Tips & Variations)
Amount Per Serving
Calories 832
Calories from Fat 630
% Daily Value*
Fat 70g108%
Cholesterol 100mg33%
Sodium 1125mg47%
Potassium 503mg14%
Carbohydrates 32g11%
Protein 19g38%
Vitamin A 1252IU25%
Vitamin C 10mg12%
Calcium 98mg10%
Iron 3mg17%
* Percent Daily Values are based on a 2000 calorie diet.