This creamy buttermilk dressing features cilantro, tomatillos, jalapeños, and more! It's the most addicting and tangy dressing that you'll be adding to more than just salads.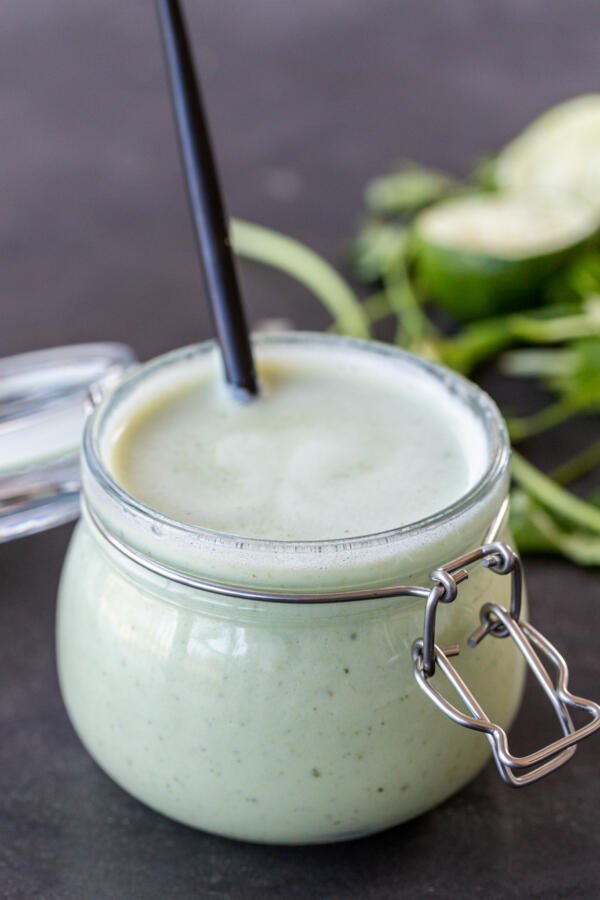 This creamy tomatillo dressing with fresh cilantro is a copycat recipe inspired by the famous tomatillo dressing at Cafe Rio. Cafe Rio is a casual Mexican cuisine restaurant popular in the western US. One of their most popular items is their tomatillo dressing, and now you can make it from the comfort of your home, too!
What is Tomatillo Dressing?
This creamy tomatillo dressing is a mixture of creamy, spicy, and fresh ingredients that are fused together in a blender to create a perfect dressing. The buttermilk, greek yogurt, and ranch provide the dressing with a creamy texture. The cilantro, lime, and tomatillos add a tart, bright and citrusy flavor, whereas the jalapeños add the desired heat.
This dressing is a great sauce for so many things, such as dipping chicken, fries, or veggies. It is also a great addition to your weekly taco night. Once you've tasted it, you'll never go back. You'll always want a jar of it in your fridge ready to go!
Special Tomatillo Dressing Ingredients
Tomatillo dressing uses a mixture of basic pantry staples such as garlic cloves, salt, and ground pepper, plus a few ingredients that may not be in constant supply in your pantry. Here's a quick overview of the special ingredients that make this dressing the absolute best.
Hidden Valley Ranch dressing mix: This dry packet mix is made of dried dill, garlic, and onion. It gives the tomatillo dressing a tangy and fresh taste. Avoid substituting with bottled ranch dressing as ranch dressing will dilute the flavor of the tomatillo dressing.
Buttermilk: Buttermilk is one of the two ingredients mainly responsible for the creaminess of the tomatillo dressing. For an optimal texture, it is best to use real buttermilk instead of using a substitute.
Greek yogurt: Greek yogurt is the second ingredient important for the creaminess of the dressing. It is healthy and full of protein. In a pinch, substitute with sour cream.
Tomatillos: Tomatillos are small, green, and round fruits that are popular in Mexican cuisine. They look similar to green tomatoes but have a different flavor profile. In this recipe, remove the tomatillo husk to reveal the inner tomatillo. Rinse the fruit and dry, then cut off the stem and dice.
Cilantro: Cilantro adds more fresh, citrusy taste to the dressing. For best results, use fresh cilantro.
Lime juice: Lime juice adds a zesty flavor. In a pinch, substitute lime juice with lemon juice; however, lime is the preferred flavor for this dressing.
Jalapeño: Everyone wants a bit of heat in their tomatillo dressing! Jalapeños are the spice of choice for this dressing. Be careful when handling them because they can leave an oil on your hands that stings!
Hot tip: If you want a spicy jalapeño, look for the jalapeño with the most lines on the flesh. A jalapeño with more lines is spicier than a jalapeño that has a smooth flesh.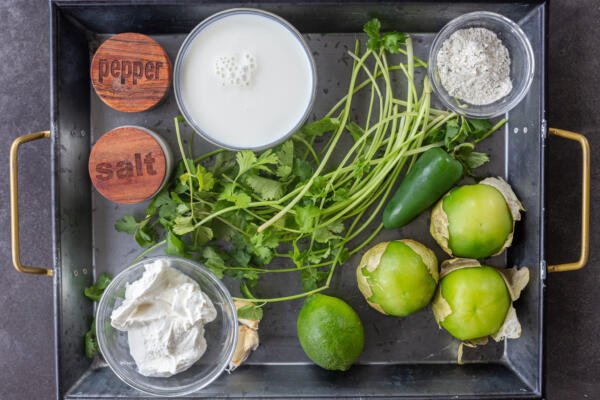 Making Creamy Tomatillo Dressing
This creamy tomatillo dressing is quite possibly the easiest thing you'll ever make. Simply blend all the ingredients together until smooth and creamy, then refrigerate in a clean jar or airtight container until ready to use. That's it!
Hot tip: An immersion blender is great for making dressings and sauces. Here is our favorite.
Hacks for the Best Tomatillo Dressing
To personalize and make the best tomatillo dressing for you and your family/friends, follow these two simple hacks.
Pick your spice level: The jalapeños control the spiciness in this dressing. Next time you pick up jalapeños, notice the lines on the skin. The more lines you see on the jalapeño, the more likely it is to be spicy.
Adjust ingredients to taste: This dressing is meant to be adjusted. Start with changing the amount of lime juice for more/less tang. Or, control the creaminess by adjusting the amount of greek yogurt and buttermilk.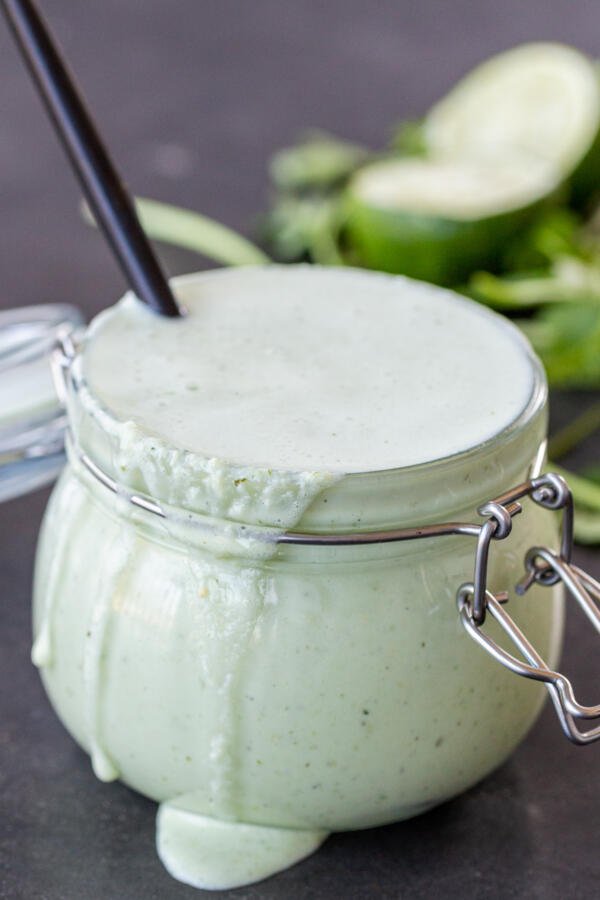 Pairing Tomatillo Dressing
This tomatillo dressing is great served as a dressing, dip, or sauce. Before serving, shake up the jar to mix the dressing in case of separation. Dip chicken cutlets or chicken burritos into the dressing as a sauce. Or, use it as dipping sauce for snacks such as zucchini fries, sweet potato fries, carrots, cucumbers, or zucchini chips. Serve it on the side for breakfast with breakfast quesadillas!
For lunch or dinner, spread the dressing inside of flank steak wraps for an extra pop of tang, or on top of carne asada street tacos. Or, use it with another Cafe Rio copycat recipe, Cafe Rio Salad. It's such a great dressing — you really can't go wrong!
How to Store the Dressing
Got any tomatillo dressing left over? Refrigerate it in a jar or an airtight container for up to seven days.
FAQ
How do I make my tomatillo dressing more/less creamy?
Adjust the creaminess of your tomatillo dressing by adding more or less greek yogurt and buttermilk. Adding more lime juice will also make the dressing less creamy but will also add more tangy lime flavor.
How do I make tomatillo dressing healthier?
For a healthier tomatillo dressing with less calories and carbs, use greek yogurt instead of mayo. Homemade tomatillo dressing is almost always healthier than store-bought because of the fresh ingredients and no additives.
More Easy Dressings to Try
Recipe
This creamy buttermilk dressing features cilantro, tomatillos, jalapeños, and more! It's the most addicting and tangy dressing that you'll be adding to more than just salads.
Ingredients
3

tbsp

Hidden Valley Ranch dressing mix

1

cup

buttermilk

1

cup

Greek yogurt

3

tomatillos

2

garlic cloves

1/2

cup

cilantro

chopped

1

tbsp

lime juice

adjust to taste

1

jalapeño

seeds removed

1/2

tsp

salt

adjust to taste

1/2

tsp

ground black pepper

adjust to taste
Instructions
Nutrition Facts
Creamy Tomatillo Dressing with Fresh Cilantro
Amount Per Serving
Calories 56
Calories from Fat 9
% Daily Value*
Fat 1g2%
Cholesterol 5mg2%
Sodium 609mg25%
Potassium 126mg4%
Carbohydrates 7g2%
Protein 4g8%
Vitamin A 153IU3%
Vitamin C 5mg6%
Calcium 66mg7%
Iron 0.2mg1%
* Percent Daily Values are based on a 2000 calorie diet.