This air fryer meatballs recipe combines ground turkey, breadcrumbs, and egg to build the ultimate protein entree. They're juicy and crispy — all in one.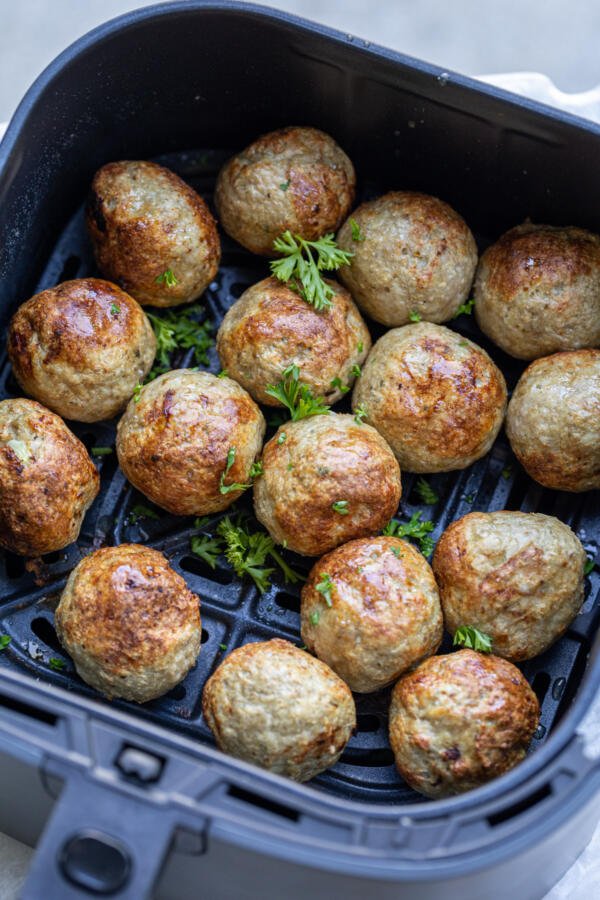 How to Make Air Fryer Turkey Meatballs
All it takes to make these turkey meatballs is a little bit of mixing and rolling. With only 15 minutes of prep time, the hardest part is waiting until they cook!
Mix the ingredients: In a large mixing bowl, combine the ground turkey, breadcrumbs, onion, egg, and salt/pepper. Mix well with your hands.
Roll the meatballs: Roll out two-inch meatballs. Use a medium ice cream scoop to consistently make even portions.
Preheat the airfryer: Preheat the airfryer to 400°F. Add meatballs in a single layer, leaving space between each one.
Cook: Air fry for 15 minutes or until the internal temperature reaches 165°F. Shake the air fryer basket halfway through the cooking time.
What type of ground turkey is best? The best ground turkey for meatballs is a mixture of 85% lean and 15% fat. Turkey leaner than that will not have as much flavor.
Air Fryer Turkey Meatballs Variations
These meatballs taste great in their most basic form — but changing up the flavor is at times exactly what's needed. Here are ideas to get you started.
Spice it up: For a spicy kick to the meatballs, add cayenne pepper, or a dash of hot sauce or sriracha to the mixture.
Make it cheesy: Add mozzarella or parmesan cheese to the meatballs for a cheesier twist.
Add in herbs: Fresh herbs always add a lot of great flavor. We love adding fresh parsley, dill, rosemary, or thyme.
Change up the seasoning: For more dry-seasoning options, use Italian seasoning, onion powder, or garlic powder. For a liquid seasoning, add a teaspoon of Worcestershire sauce.
Substitute the ground turkey: If you need a meat substitute, use ground beef or ground chicken instead.
Tips from the Kitchen
Even the easiest recipes benefit from a few tips. We've done the hard work for you and found what tricks make these meatballs absolutely perfect.
Make same-size meatballs: To ensure the meatballs cook evenly, shape them all to the same size.
Use wet hands: To shape the meatballs, use wet hands. The meat will not stick as much to wet hands.
Shake the basket: Shake the air fryer basket halfway through the cooking time. This will roll the meatballs around in the basket, allowing for even cooking.
Test with a meat thermometer: Test the internal temperature of the meatballs with a meat thermometer. This will help to avoid overcooked and dried-out meatballs.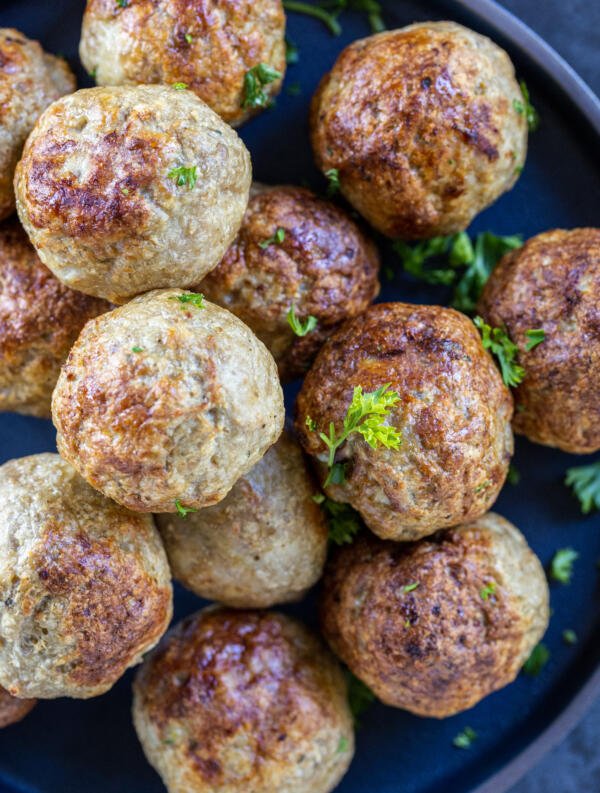 Ways to Serve
Meatballs are the ultimate protein entree. Serve them alone as an appetizer with a toothpick and a side of hummus or as part of a full-course meal. To make them part of a full meal, add a grain and a vegetable such as quinoa, buckwheat, perfect veggie side dish, or classic garden cucumber tomato salad. Or, make spaghetti and meatballs with our homemade pasta and your favorite pasta sauce. We love the taste of our 5-minute marinara sauce paired with these meatballs.
Storage Tips + Reheating
Meatballs are a great option to have on hand to go at a moment's notice. Follow these tips to store leftovers or extra raw meatballs and enjoy whenever needed!
Refrigerator: To store for up to four days, place baked meatballs in an airtight container into the fridge. Allow meatballs to cool before storing.
Freezer: To store for up to three months, freeze cooked meatballs on a flat on a baking sheet, then move to a freezer-safe ziploc bag. To store raw meatballs, freeze them separated on a flat baking tray lined with parchment paper. Once frozen, transfer to a separate ziplock bag. Thaw in the fridge.
Reheating: Meatballs are crazy easy to reheat. Reheat a few at a time in the microwave. Or, to reheat a larger quantity, bake them in the oven or air fryer until warmed through.
Hot tip: These meatballs are great for meal prep! Prep a large batch and you've got multiple meals ready to go.
FAQ
Are turkey meatballs healthier than beef meatballs?
Turkey is usually a healthier meat option for meatballs than beef as turkey tends to have less fat. However, both meats make very tasty meatballs.
Why are my meatballs falling apart?
Meatballs may fall apart due to an abundance of breadcrumbs in the mixture. Add less breadcrumbs next time.
Why are meatballs rubbery?
Meatballs can get rubbery if the meat was worked around too much or if the meatballs were too tightly shaped. When shaping, be gentle and avoid overworking the meat.
Do I need to preheat my air fryer?
It is best practice to preheat the air fryer before adding the meatballs. This will ensure the most accurate and consistent cooking time.
More Meatball Recipes
Recipe
This air fryer meatballs recipe combines ground turkey, breadcrumbs, and egg to build the ultimate protein entree. They're juicy and crispy — all in one.
Ingredients
2

lbs

ground turkey

1

cup

bread crumbs

1

onion

grated

1

large egg

1

tbsp

salt

adjust to taste

1

tsp

ground black pepper

adjust to taste
Nutrition Facts
Air Fryer Turkey Meatballs
Amount Per Serving
Calories 259
Calories from Fat 45
% Daily Value*
Fat 5g8%
Cholesterol 110mg37%
Sodium 1383mg58%
Potassium 523mg15%
Carbohydrates 15g5%
Protein 39g78%
Vitamin A 80IU2%
Vitamin C 1mg1%
Calcium 48mg5%
Iron 2mg11%
* Percent Daily Values are based on a 2000 calorie diet.