This recipe for lobster risotto yields a perfectly creamy texture each & every single time. Speckled with plump lobster meat, it's a restaurant-worthy treat!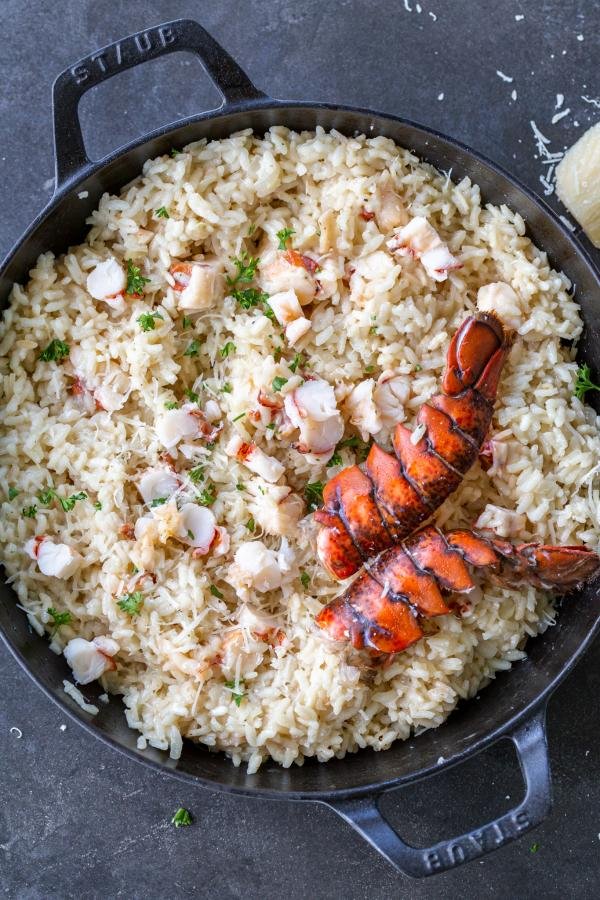 There's a dish that all foodies can rally around and it's this decadent lobster risotto. There's nothing like how the creamy, parmesan cheese-spiked rice complements the chunks of melt-in-your-mouth lobster meat. Bon appetit!
Whipping Up this Simple Lobster Risotto
This 8-ingredient lobster risotto recipe requires some rigorous stirring and a bit of patience to let the arborio rice work its creamy magic.
You will need cooked lobster for this recipe, you can either grill lobster or broil lobster.
Heat the Stock Up: Heat the stock up over medium heat in a saucepan. Cover it with a lid and set it to the side.
Sauté the Onions: Next, dice the onions into small pieces and sauté them until soft in olive oil.
Toast the Rice: Add the arborio rice into the pan and sauté it until it turns a lightly golden brown.
To the rice, add 1 cup of broth. Cook the rice over medium heat until it's almost fully absorbed the broth.
Add the Broth in Heats: Next, add in enough broth just to cover the rice. Stir the mixture constantly until the rice absorbs the broth. Repeat the process until you run out of stock.
Stir in the Lobster & Parmesan: Finish the risotto by adding in the lobster chunks and half of the parmesan cheese. Season to taste with salt and top with the rest of the parmesan. Dig in and enjoy!
Handy Tips & Notes for Making Lobster Risotto
If it's your first time making lobster risotto, a couple considerations will help you ensure you don't over or undercook the arborio and get the most flavor out of the dish as possible.
Mind the type and size of your pan. Depending on the type of pan you use and the size, the cooking time will vary. For best results, check the readiness of the rice every so often and pull the risotto once it's tender enough.
Use arborio rice if you can. Arborio is the rice to use in risotto – it's a short-grain Italian rice that's ultra creamy and chewy in texture. If you cant find it, any short grain rice will work well enough.
Opt for seafood or lobster stock. Seafood or lobster stock is the most complimentary for this recipe. If you can't get your hands on it, you can also use vegetable stock or chicken broth/chicken stock.
In a rush? The secret to making risotto quickly is a large skillet. This allows the ingredients to spread out evenly and cook faster.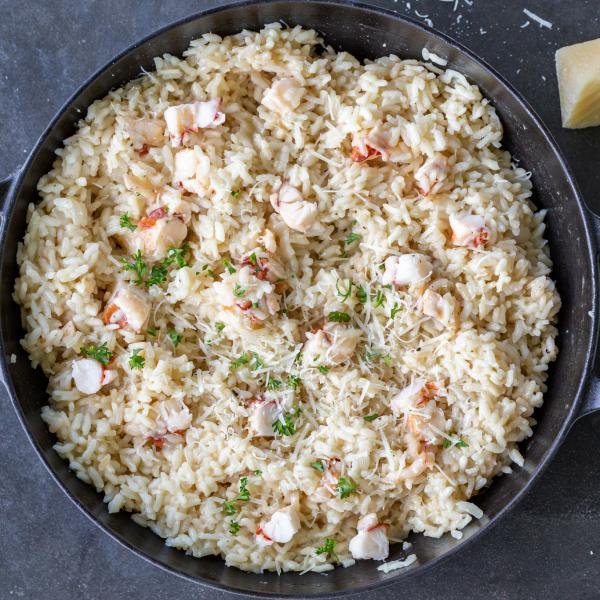 Ideas for Serving
Our favorite way to serve lobster risotto is with fresh sourdough bread and a homemade, crisp caesar salad. If you want to go more decadent, serve it with a cast iron ribeye (or a grilled ribeye if you already have the grill fired up for your lobster) and some air fryer broccoli and cheddar cheese biscuits.
Like it citrusy? Garnish the risotto with a squeeze of lemon juice or some lemon zest shavings.
Storing & Reheating Leftovers
While risotto is best eaten straight out of the pan, you can store leftovers in an airtight container for up to 2-3 days. To note, the risotto will thicken as it sits in storage due to the high level of starch in rice. To reheat the rice properly, add 1/4 cup of broth per every 1 cup of risotto into a saucepan. Cook the mixture over medium heat until creamy and warmed through.
FAQ
Does arborio rice take longer to cook than regular rice?
Arborio rice doesn't take much longer to cook than regular rice. What gives the illusion that it's more difficult is the fact that it needs to be stirred constantly to prevent it from burning to the bottom of the pan and to help the dish become creamy.
How do you know when lobster risotto is done?
The only way to know that risotto is finished is to give it a good, old-fashioned taste test. You want the rice to be perfectly al dente – tender, yet with a little bite to it.
Why does risotto take so long to cook?
Risotto only takes about 30 minutes to cook, which is not that long compared to most dishes. That said, it requires constant attention and tending to – demanding that the chef stir it constantly as it comes together.
Can you freeze lobster risotto?
Avoid freezing risotto all-together – the cooked rice becomes super grainy upon reheating. Some things are best eaten fresh!
More Tasty Rice Dishes to Try
Recipe
This recipe for decadent lobster risotto will transport you into your favorite seafood restaurant. Made in under an hour, it's creamy, savory, & crazy good!
Ingredients
6

cups

seafood stock

4

tbsp

unsalted butter

4

tbsp

avocado or olive oil

1

medium onion

diced

2

cups

arborio rice

1/2

cup

parmesan cheese

freshly grated

1

lobster

cooked, cut into pieces

1

tsp

salt

adjust to taste
Nutrition Facts
Easy Lobster Risotto (Crazy Good)
Amount Per Serving
Calories 483
Calories from Fat 189
% Daily Value*
Fat 21g32%
Cholesterol 52mg17%
Sodium 1388mg58%
Potassium 339mg10%
Carbohydrates 56g19%
Protein 16g32%
Vitamin A 309IU6%
Vitamin C 1mg1%
Calcium 198mg20%
Iron 3mg17%
* Percent Daily Values are based on a 2000 calorie diet.