This easy Tex-Mex taco salad is filled with crisp lettuce, flavorful Ground Beef, tomatoes, cheese, salsa, and so much more. You don't want to miss this!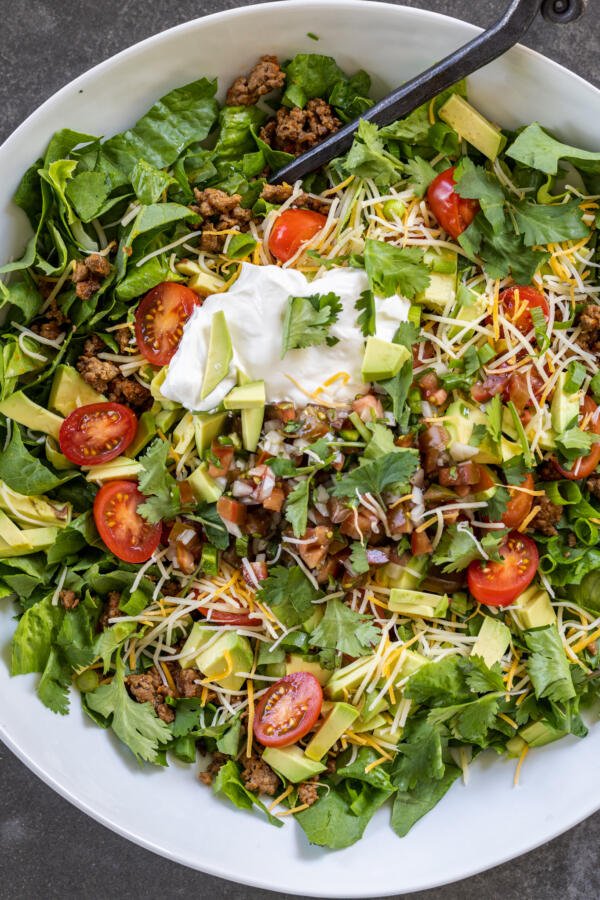 This post is a collaboration with Beef. It's What's for Dinner. on behalf of the Beef Checkoff. I received compensation, but all opinions are my own.
What is a Taco Salad?
Taco salad is a deconstructed taco, served in salad form. Most taco salads include ingredients such as Ground Beef, tomatoes, lettuce, onion, cheese, salsa, and sour cream. Taco salads are a hallmark of Tex-Mex cuisine, as classic Mexican tacos do not usually include ingredients such as lettuce. The ingredients in taco salad are easily customizable to each person's preference, making it a great option for all.
Taco Salad Video
How to Make Taco Salad?
Taco salad is crazy easy to make. The hardest part (and it's not even hard!) is the prep. Before assembling the salad, chop or shred the ingredients you'll be using to make the process go quickly and as smooth as possible.
Hot tip: Our homemade taco seasoning has all the important taco spices: salt, chili powder, paprika, cumin, onion powder, garlic powder, oregano, and more! Give it a try – you'll love it!
Variations Of Taco Salad
Change up the basic taco salad by adding a variety of other flavors and textures to your bowl. Every bite is guaranteed to be delicious.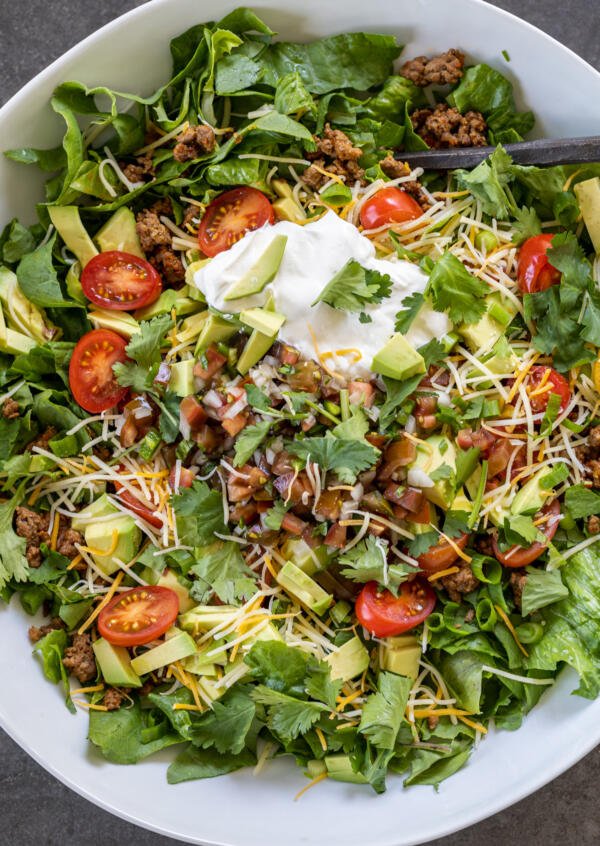 Tips from the Kitchen
It's hard to go awry with such an easy recipe as this, but to ensure the best taste, follow these tips.
Ways to Serve
Taco salad is a great option for hosting — so make it a "taco bar" night! Set out all the ingredients in separate bowls and allow your guests to assemble their own taco salad. Serve the tacos in a bowl over a large homemade tortilla or over a plate of air fryer tortilla chips.
Storing & Reheating
Taco salad is a great weekday meal prep idea as it has meat and veggies all in one dish! It's best to store the ingredients separately in airtight containers for up to five days so the salad does not turn to mush. Reheat the Beef right before assembling if you like it warm — but cold tastes great, too!
FAQ
Is taco salad healthy?
Taco salad is as healthy as the ingredients that are put into it. The healthier the ingredients, the healthier the salad.
What is the difference between taco salad and nacho salad?
The two salads are very similar, but taco salad usually uses plain tortilla chips, whereas nacho salad adds nachos with melted cheese on top.
Similar Beefy Recipes
Recipe
This easy Tex-Mex taco salad is filled with crisp lettuce, flavorful Ground Beef, tomatoes, cheese, salsa, and so much more. You don't want to miss this!
Ingredients
1

lb

ground Beef

85% lean

2

tbsp

taco seasoning

10

oz

Romaine lettuce

chopped

1 1/2

cups

grape tomatoes

halved

1

large avocado

chopped

1/2

cup

green onions

chopped

1

cup

Mexican cheese

shredded

1/2

cup

salsa

any of your favorite

1/3

cup

sour cream

1/4

cup

cilantro

chopped
Instructions
Using a medium size pan, cook the ground Beef until it reaches 160°F, as measured by a meat thermometer. Towards the end of the cooking time, add in taco seasoning. Cover with a lid and set aside.
Nutrition Facts
Taco Salad Recipe
Amount Per Serving
Calories 363
Calories from Fat 252
% Daily Value*
Fat 28g43%
Cholesterol 79mg26%
Sodium 387mg16%
Potassium 686mg20%
Carbohydrates 9g3%
Protein 20g40%
Vitamin A 4987IU100%
Vitamin C 13mg16%
Calcium 185mg19%
Iron 3mg17%
* Percent Daily Values are based on a 2000 calorie diet.