Air Fryer Parmesan Zucchini Chips are a healthy take on a diner favorite. If you love all things breaded and fried, get ready to satiate your craving without all the guilt.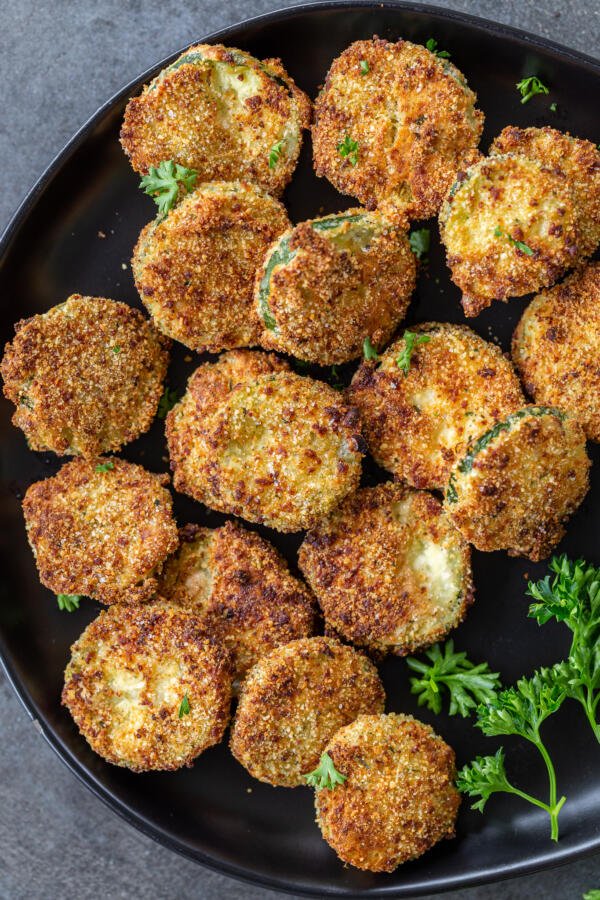 Air Fryer Parmesan Zucchini Chips are golden on the outside and juicy on the inside. Whether you're whipping up a game day spread or hosting a summer BBQ, these crunchy morsels are the perfect recipe to lean on.
What's better? Using the air fryer means you get all the crisp without all the fat. This recipe only requires a mere tablespoon of cooking spray, versus an entire skillet of oil.
What are Air Fryer Parmesan Zucchini Chips
I call these chips, but they are really more like deep-fried zucchini rounds. If you've ever gotten an appetizer sampler, you've likely tried them before. However, this recipe skips the need for messy frying, instead tapping the powers of the air fryer.
Flavor: Salty parmesan and Italian seasoning up level the breading from bland to fabulous. I mean, why eat breading if it doesn't pack a punch of flavor in-and-of itself? When it comes to the zucchini, wait until the veggie's peak summer season to bust this recipe out. Grab a huge haul from your local farmer's market to yield the freshest flavor.
Texture: These chips are all about the texture. The crispy outer breading is the perfect compliment to the moist zucchini. After much experimenting, I found that the mixture of flour, egg, parmesan, and panko yields the most binge-worthy bite.
Time: From prep to first bite, this recipe only takes a total of 10 minutes of prep and 20 minutes of cooking time.
How to Make Air Fryer Parmesan Zucchini Chips
If you're anything like me, you enjoy the process of breading. All the dipping is actually quite fun! Below, find a rundown of the steps to make these awesome chips.
Make the Breading: For this recipe, you will need to dunk your zucchini in three separate breading layers: flour, eggs, and panko. First, mix you flour with salt, pepper, and Italian seasoning. Next, whisk your eggs in another small bowl. Finally, combine your panko with parmesan cheese.
Cut Zucchini: Cut your zucchinis into 1/4-inch thick rings.
Season: In this exact order, dip each ring into the flour, eggs, and parmesan-panko mixture.
Air Fry: Place breaded zucchinis into the air fryer tray in a single layer. Air fry for 5 minutes on each side at 400°F.
Serving Air Fryer Parmesan Zucchini Chips
Air Fryer Parmesan Zucchini Chips are the perfect addition to your next party platter. Pair them with Air Fryer Chicken Wings, Pigs in a Blanket, Air Fryer Cheesy Jalapeño Poppers, and Air Fryer Potato Skins.
Now it's time for dipping. Whip up our Ranch Dressing, Tzatziki Sauce, or Chimichurri Sauce and dip to your heart's desire. I like to put out a couple dipping sauces so my guests can have a couple different flavor experiences. If you don't feel like making a homemade sauce, pull out what you have in your fridge and make it easy on yourself. Hot sauce, BBQ, and most creamy, bottled dressings will do the trick.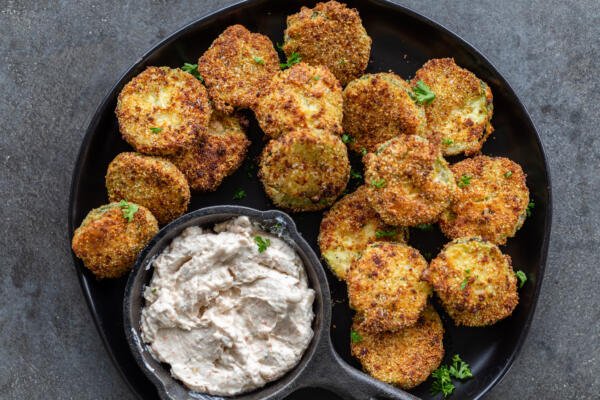 Storing Air Fryer Parmesan Zucchini Chips
Refrigerating: Store leftover zucchini chips in an airtight container in the fridge. They should stay fresh for up to a 3-5 days.
Freezing: Although tempting, freezing your chips isn't a great idea. Zucchini holds a ton of moisture and once it defrosts, it will turn your breading super soggy. Only make what you can eat within a week to stay on the safe side.
Reheating Tip: There is no better reheating mechanism than the air fryer. If you want to turn your chips back to their crispy state, pop them into the tray at 400°F for 2-3 minutes.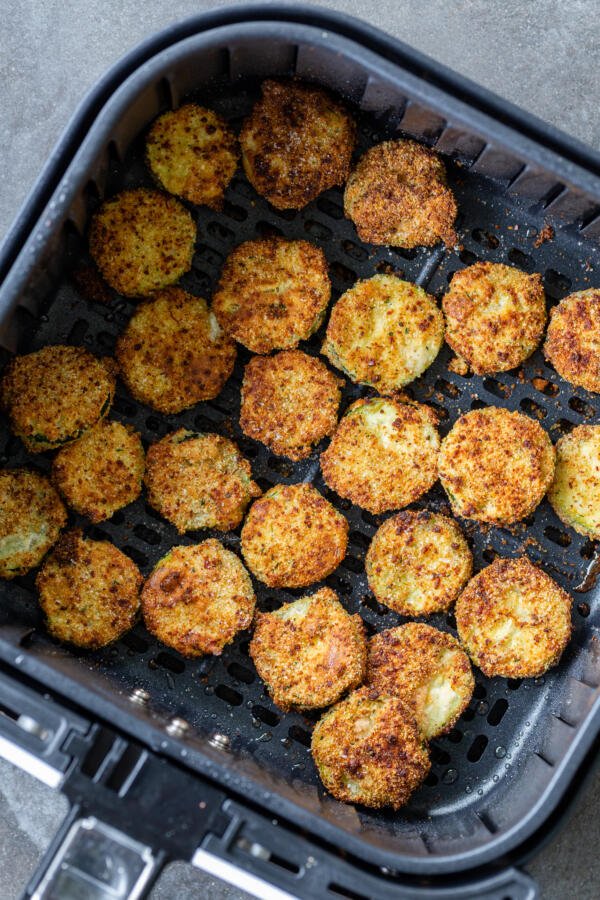 FAQ
Are air fryer parmesan zucchini chips healthy?
Absolutely! With no deep frying required, these chips pack a nice serving of veggies with minimal fat or cholesterol. If you want to be super healthy/gluten-free, swap out the all-purpose flour for almond.
How do you cook zucchini so it doesn't get mushy?
This recipe is so quick, that little moisture will be able to escape the zucchini during the cooking process. However, if you want to be extra cautious, salt both sides of your zucchini after your chop it into rounds and allow it to sit at room temperature for 15 minutes. This will pull excess moisture out and make for even crispier chips.
Can you air fry frozen zucchini?
I would advise against air frying frozen zucchini. Frozen zucchini mush when thawed. Always use fresh zucchini to prevent your chips from turning soggy.
More Air Fryer Recipes
Obsessed with your air fryer? We are too. Check out some of our other favorite recipes.
Recipe
Air Fryer Parmesan Zucchini Chips are a healthy take on a diner favorite. Get ready to satiate your craving without all the guilt.
Ingredients
3

medium zucchini

1

tsp

salt

adjust to taste

1

tsp

pepper

adjust to taste

1

tbsp

Italian seasoning

1/2

cup

flour

2

large eggs

1

cup

bread crumbs

panco or italian bread crumbs

1/3

cup

parmesan cheese

1

tsp

spay oil
Nutrition Facts
Air Fryer Parmesan Zucchini Chips
Amount Per Serving
Calories 266
Calories from Fat 63
% Daily Value*
Fat 7g11%
Cholesterol 88mg29%
Sodium 956mg40%
Potassium 514mg15%
Carbohydrates 38g13%
Protein 13g26%
Vitamin A 502IU10%
Vitamin C 26mg32%
Calcium 209mg21%
Iron 4mg22%
* Percent Daily Values are based on a 2000 calorie diet.