This shrimp and rice recipe uses five basic ingredients — rice, shrimp, garlic, butter, and parsley. The ingredients are uncomplicated, but the taste is extraordinary.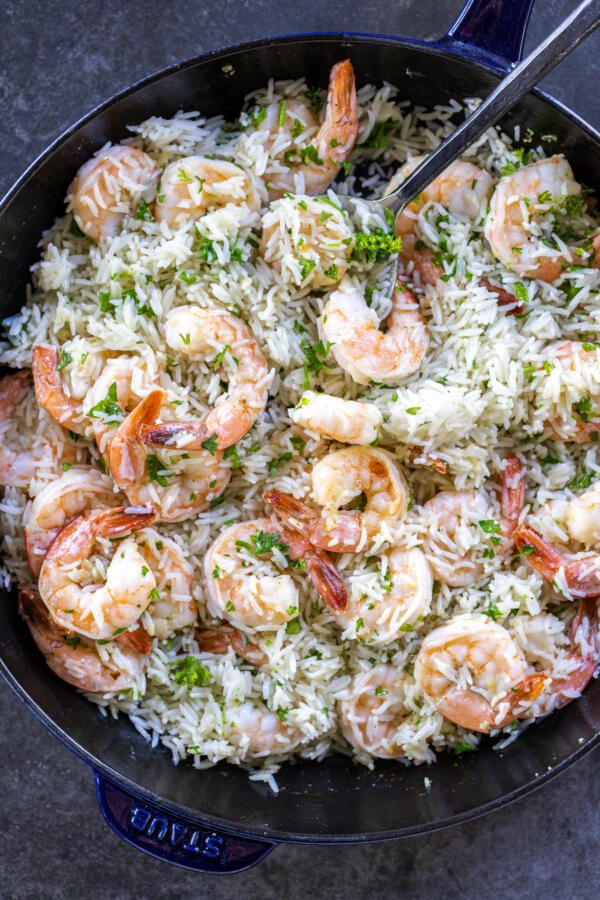 What is Shrimp and Rice?
Shrimp and rice is a simple but delicious one-pan meal made with rice and shrimp, sauteed in freshly minced garlic and butter. Don't skip the fresh parsley at the end – it's not just there for the looks!
This recipe is a great way to use up leftover cooked rice. With the leftover rice, it takes only 15 minutes to cook from start to finish. Plus, the simple ingredients are easily adjusted to suit individual flavor preferences.
Shrimp and Rice Video
How to Make Shrimp & Rice
The easiest way to make shrimp and rice starts with preparation. As always, preparation is key.
Prepare the rice: If you don't have cooked rice on hand, cook a bit of fresh basmati rice or your favorite type of rice.
Cook the aromatics: On medium low heat, melt the butter in a skillet. Then, add in minced garlic and cook until fragrant but not browned.
Add in the shrimp: Add the raw shrimp and turn to medium high heat. Cook the shrimp until lightly pink. Season with garlic parsley salt.
Combine the shrimp and rice: Stir in the cooked rice, then cook for a few more minutes. Add in fresh parsley and enjoy.
Choosing the Best Shrimp
Shrimp are often sold in three sizes (small, medium, large), cooked and uncooked, and deveined or veined. Here's a guide on which type of shrimp we suggest to use in this recipe.
Jumbo/large shrimp: Use large or jumbo shrimp as they tend to be more flavorful. It is also harder to overcook them.
Deveined, tail-on shrimp: Many shrimp come deveined (the digestive tract is removed), but look for shrimp that still have the tail. Did you know the tail actually gives more flavor?
Raw shrimp: For the best taste, use raw shrimp. Raw shrimp will be juicier compared to cooked shrimp. Cooked shrimp turn chewy and rubbery when cooked even more.
Shrimp and Rice Variations
The basic shrimp and rice recipe uses only five ingredients, but it's easy to make your own variations by swapping or adding other ingredients.
Make it creamy (Quick Risotto): To make the shrimp and rice creamier like risotto, add 1/2 cup of chicken broth and 1/2 cup of parmesan cheese.
Spice it up: For the spice lovers, add in a dash of red pepper flakes with the shrimp.
Mix in veggies: Add more vegetables to your meal by adding mushrooms, onions, green onions, bell peppers, carrots, broccoli, and/or asparagus. Precook the veggies before adding to the pan. Add the cooked veggies towards the end of cooking.
Add in cajun seasoning: Make the shrimp cajun-style by adding premade cajun seasoning or a mix of black pepper, cayenne pepper, onion powder, garlic powder, and paprika when sauteeing the shrimp.
Tips from the Kitchen
Follow these easy tips to make a five-star shrimp and rice dish worthy of any restaurant menu.
Stir the garlic often: Stir to the garlic often to prevent it from burning and giving a bitter taste. Garlic burns easily over high heat, so stirring is essential.
Thaw the shrimp: When using frozen shrimp, thaw them fully, then dry with a paper towel to remove the excess moisture. Too much moisture will affect how the shrimp cook and taste.
Avoid overcooking: Avoid using overcooked, mushy rice. Overcooked rice becomes more mushy and the flavor and texture of the dish will not be as good.
Use cold rice: Feel free to use your favorite type of rice — white rice, long grain rice, brown rice, basmati rice, etc. Make sure it is cold or the rice turns mushy and clumpy.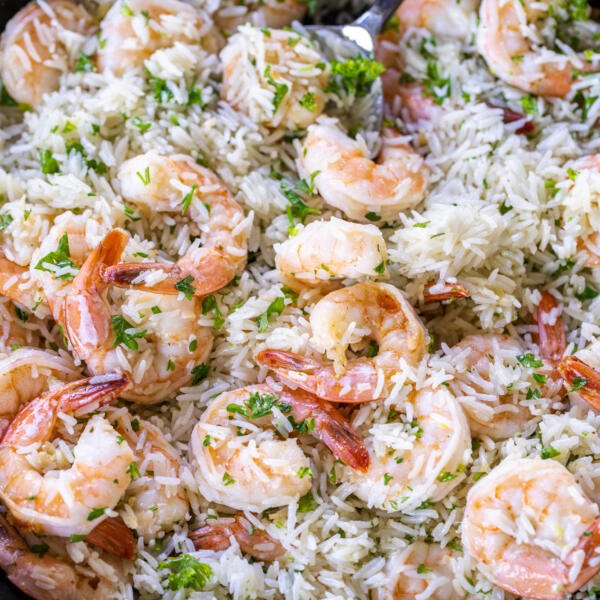 Serving Suggestions
Shrimp and rice has the best flavor when enjoyed hot right off the stove. For a well rounded meal, add more color and veggies to the mix. Pair the entree with an easy veggie side dish like roasted carrots and parsnips, oven roasted broccoli, or parmesan panko roasted veggies. If you prefer salads, you can't go wrong with this refreshing Asian cucumber salad. Corn tomato avocado salad and green cabbage cucumber salad are also great choices.
Storage Tips + Reheating
Shrimp and rice is great fresh off the stove, but in case of leftovers, it stores and reheats well, too.
Refrigerator: To store for up to four days, place the cooked entree into the fridge in an airtight container.
Freezer: To store for up to three months, keep the cooked entree in a freezer-safe container. Thaw it in the fridge before warming it up.
Reheating: For the best texture and flavor, reheat in the oven at 300°F for 15 minutes. This helps prevent the shrimp from becoming too rubbery due to overcooking. If you prefer the stove, reheat in a skillet on medium high heat until just warmed, stirring often.
FAQ
Can shrimp and rice be made ahead of time?
Shrimp and rice is best served fresh off the stove, but the rice can be prepared ahead of time. Shrimp tastes best right after it is finished cooking.
Why do people coat shrimp with baking soda?
Coating shrimp with baking soda often gives it a crispier texture. We don't do this, but feel free to try it out.
How long can you cook shrimp?
On average, large shrimp cook in about 4-5 minutes, or 2-3 minutes per side. It is best not to overcook shrimp, as this results in a chewy, rubbery meat.
More 15-Minute Recipes
Recipe
This shrimp and rice recipe uses five basic ingredients — rice, shrimp, garlic, butter, and parsley. The ingredients are uncomplicated, but the taste is extraordinary.
Ingredients
6

tbsp

butter

unsalted

4

garlic cloves

minced

1

lb

uncooked shrimp

peeled, deveined

1

tbsp

garlic parsley salt

3

cups

cooked rice

any variety

1/4

cup

fresh parsley

chopped
Nutrition Facts
15 Minute Shrimp & Rice (One Pan)
Amount Per Serving
Calories 261
Calories from Fat 108
% Daily Value*
Fat 12g18%
Cholesterol 125mg42%
Sodium 1475mg61%
Potassium 139mg4%
Carbohydrates 24g8%
Protein 13g26%
Vitamin A 697IU14%
Vitamin C 4mg5%
Calcium 60mg6%
Iron 1mg6%
* Percent Daily Values are based on a 2000 calorie diet.