This recipe for egg tacos features slightly spicy eggs topped with cheese, salsa, & fresh cilantro. Great for brunch or for quick weekday lunches & dinners!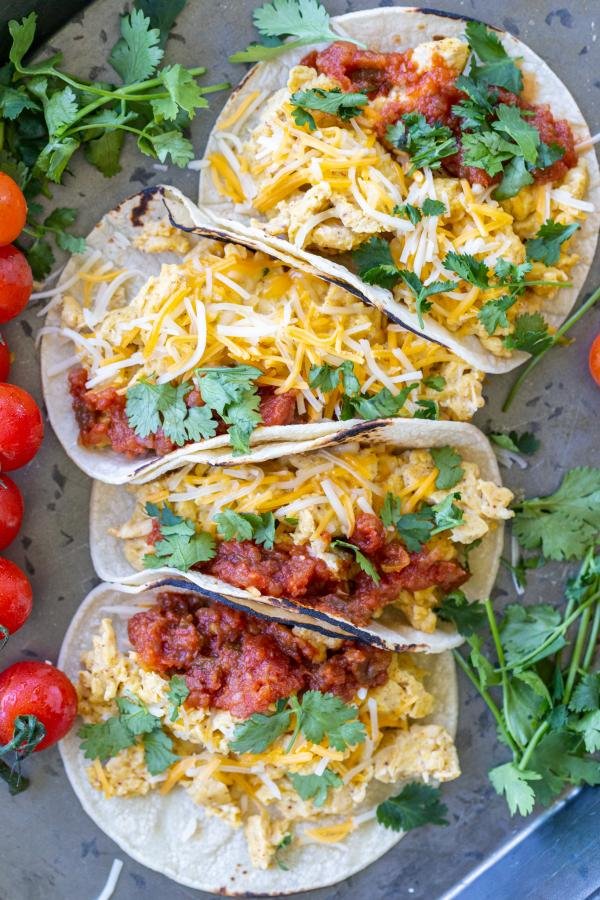 If you've ever found yourself hanging out in Texas, chances are you've come across a breakfast taco. This Tex-Mex treasure makes it perfectly acceptable to chomp down on a taco any time of day. In this 10 minute egg tacos recipe, you'll create some seriously cheesy tacos that are topped with all your favorite fixin's.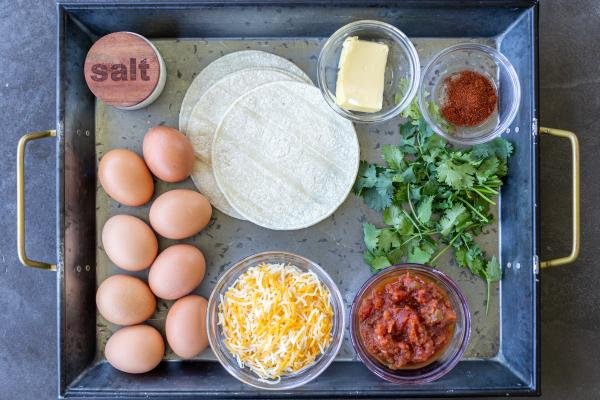 How to Make Texas-Style Egg Tacos
This simple egg tacos recipe takes just 5 minutes of prep time and 5 minutes of cook time.
Prepare the Eggs: First, crack the large eggs into a bowl and whisk them with chili powder and salt.
Scramble the Eggs: Next, preheat a pan with butter and scramble the eggs.
Warm the Tortillas: Either warm the tortillas over an open flame or nuke them in the microwave for 10 seconds until slightly softened (note: you can use corn tortillas or flour tortillas – it's up to you!).
Assemble the Egg Tacos: Then, place the egg mixture in the center of the warm tortillas, followed by the shredded cheese, salsa, and cilantro. Grab the taco with your hand and take a big bite!
Level Up with Homemade Tortillas: If you're in the mood, whip up a batch of homemade tortillas.
Tips, Tricks, & Hacks
If it's your first time whipping up a breakfast taco, these handy pointers will have you cooking them with your eyes closed in no time.
Prepare the eggs over medium-low heat. To prevent the eggs from over cooking, cook them on medium-low. This should only take 3-4 minutes!
Don't over scramble the eggs. As you're cooking the eggs, only scrape the bottom of the pan to create longer egg strips. You don't want to break the egg up too much or it will fall right out of the tortilla as you're biting into the taco.
Use good quality salsa. So much of the flavor of a breakfast taco comes from the quality of the salsa. Make some pico de gallo fresh or purchase your favorite variety from the local taqueria.
Spice the eggs up with a little taco seasoning. Take the eggs to the next level by seasoning them with a teaspoon or so of taco seasoning.
Pro Tip: When you heat up the tortilla, do it over the open flame of your gas burner or grill. This will add a nice char and a smokey flavor that will take your egg tacos to the next level!
More Topping Ideas for Egg Tacos
Who said you have to follow our rules? If you want to make these tacos your own masterpiece, add in your favorite ingredients and go wild. Here's a couple of ideas to get your inspired…
Meats: Pop in some baked bacon or air fryer bacon, chorizo, breakfast sausage, or carne asada for added protein.
Cheeses: Swap in cotija cheese, sharp cheddar, or queso fresco.
Dairy:Drizzle the egg tacos with a dollop of sour cream, yogurt, or Mexican crema to cool them down.
Avocado: Add on a couple of fresh slices of avocado or top the tacos with guacamole.
Beans: Top the tacos with refried pinto beans or whole black beans.
Pickled Goodies: Add a punch of tang by topping the tacos with pickled onions or pickled jalapeños.
Potatoes: If you're a carb lover, roast some yellow potatoes, onions, and bell peppers and stuff the potato mixture into the tacos. You can even swap in sweet potato if you like a sweet and salty flavor profile!
Fresh Veggies: Add on some chopped romaine lettuce, fresh tomatoes, shredded cabbage, or shaved radish.
Hot Tip: If you don't like scrambled eggs, feel free to stuff over-medium eggs into the tortillas instead. There's nothing like sopping up the runny yolk with your tortilla!
What to Serve Alongside Egg Tacos
For a complete meal, serve your breakfast tacos alongside air fryer tortilla chips and more salsa for dipping. If you're serving them for lunch or dinner, pair them with cilantro lime rice or 3-ingredient oven-roasted potatoes.
Storing & Reheating Best Practices
Egg tacos are wonderful for meal prep and can be stored for up to a week. To do so, make sure to keep the eggs separate from the tortillas and the toppings. It's also best to warm the tortillas fresh if you can – nothing compares to the taste of a tortilla right off an open flame!
Reheating Tip: The best way to reheat the egg mixture is in the microwave for 30-45 seconds or until warmed through.
FAQ
What's another name for egg tacos?
Another name for egg tacos is breakfast tacos. You'll find these savory treats served all throughout the South Western United States, as they are the perfect representation of Tex-Mex cooking.
What's the best way to scramble an egg for egg tacos?
The key to a great breakfast taco is not to scramble the eggs so fine that they fall right out of the tortilla. For the best results, scramble the eggs in a non-stick skillet over medium-low heat, only scraping the bottom of the pan to keep the eggs intact.
What tortillas are best for egg tacos?
You can use either flour tortillas or corn tortillas for egg tacos – it's up to you! That said, most traditional breakfast tacos come with flour tortillas that have been warmed or charred over an open flame.
How can you make your egg tacos spicy?
If you want your egg tacos to pack a bit of heat, add in more chili powder to the egg mixture. Just be careful because a little goes a long way! You can also top them with your favorite hot sauce or scramble some fresh jalapeno in with the eggs.
More Tasty Mexican-Inspired Dishes
Recipe
This recipe for egg tacos says tacos are for breakfast too! Tucked into a tortilla, the slightly spicy eggs are up-leveled with salsa, cheese & cilantro.
Ingredients
8

large eggs

1

tbsp

chili powder

1

tsp

salt

adjust to taste

2

tbsp

unsalted butter

4

taco tortillas

corn or flour

1/2

cup

salsa

1/4

cup

cilantro

chopped

1

cup

Mexican cheese
Nutrition Facts
Crazy Good Egg Tacos (10 Minute)
Amount Per Serving
Calories 292
Calories from Fat 198
% Daily Value*
Fat 22g34%
Cholesterol 369mg123%
Sodium 1124mg47%
Potassium 275mg8%
Carbohydrates 4g1%
Protein 18g36%
Vitamin A 1651IU33%
Vitamin C 1mg1%
Calcium 252mg25%
Iron 2mg11%
* Percent Daily Values are based on a 2000 calorie diet.