Who said salad has to be boring? Not us! This comprehensive list features healthy salad recipes for every occasion you can think of.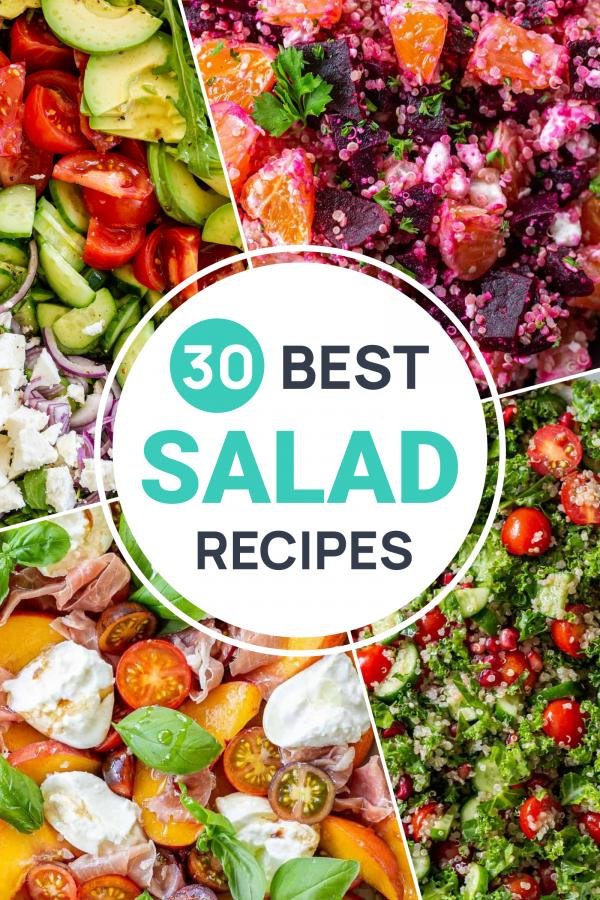 Are you the kind of person who gets excited at the thought of salad? Get ready to feed your addiction with the list of our most exciting salads.
The Anatomy of Every Perfect Salad
Ever wonder what components go into making the perfect salad? Below, find an overview of the basic structure.
The Base: The base can consist of just about any lettuce from romaine to arugula, but it doesn't stop there. For crunchy slaw, you can also use broccoli, cauliflower, or cabbage. Or, in the summertime the base could be juicy tomatoes or even watermelon!
The Protein & Veggies: Next, you'll want to select a complimentary mix of veggies and/or protein. Red onion, carrots, beets, peppers, beans, hard boiled eggs, grilled chicken, steak – you can't go wrong!
Toppers: Now for the fun part…toppers! Every salad deserves a chef's kiss of toasty nuts, cheese, bacon bits, or dried fruit.
Dressing: Finally, it's the dressing that pulls everything together. From creamy Greek dressing to simple red wine vinaigrettes, the possibilities are endless (and delicious).
Different Kinds of Salads
While there are too many salads out there to name, we've bucketed our favorites into 5 categories.
Appetizer Salads – Consider these salads the perfect start to any meal. They also make for a great side dish to protein.
Fruity Salads – Fruity salads are for lovers of sweet and salty flavor profiles.
Pasta Salads – Nothing says a backyard BBQ or potluck like a pasta salad. Plus, who doesn't like eating pasta and getting to call it a salad?!
Filling Dinner Salads – These salads are so filling, they can be eaten as a meal all on their own.
Bonus: Russian & Ukrainian Salads – At Momsdish, we love to bring our family recipes into the mix. This bonus section includes some of our most beloved Slavic salads!
Ever use a salad spinner? It wicks off all the moisture from lettuce and cleans it to prevent your salad from tasting soggy or watered down. Check this one out if you don't have one.
The BEST Salad Dressings
Find yourself leaning on bottled, store bought dressings? Try your hand at making delicious ones homemade!
Hot Tip: Store salad dressing in Mason Jars so you can easily shake them up and redistribute all the ingredients. Plus they're airtight and will keep your dressing fresh for longer!
FAQ
How do you properly mix a salad?
This is hard to say, because each salad is so different. For sturdier salads, a toss with a salad fork and spoon does the trick. For more delicate salads (like recipe #12 for Peach Burrata Salad), a drizzle of dressing right on top will suffice.
How should you store salads?
Most salads should be eaten straight away, but others are perfect for make-ahead. As a general rule of thumb, always store the veggies and protein separately from the dressing.
Appetizer Salads
This simple salad features cherry tomatoes, avocado, and fresh mozzarella cheese nestled on top of a bed of spicy arugula. You'll love the tangy lemon and black pepper dressing!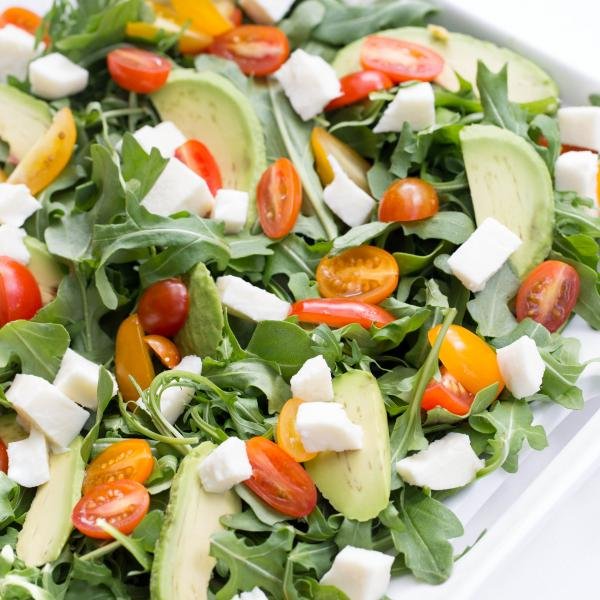 This garden salad recipe is the perfect everyday salad. It's so universal and can round out just about any meal!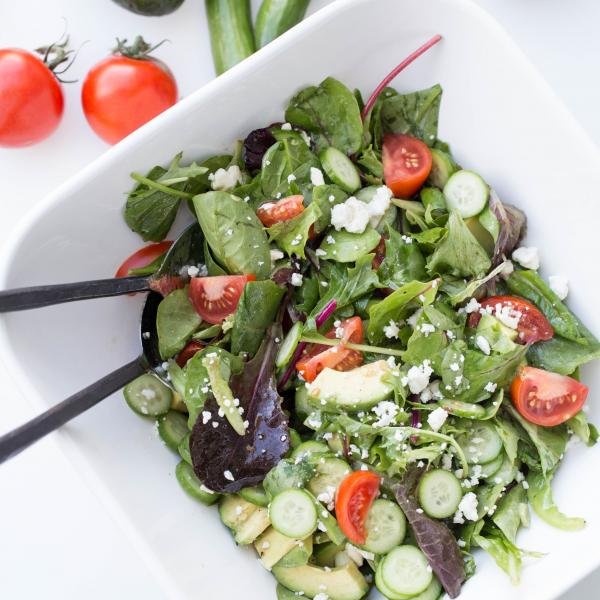 Giardineira features large chunks of crunchy, pickled broccoli, cauliflower, and carrots. Use it as a topper for a steak sandwich or serve it alongside grilled meat.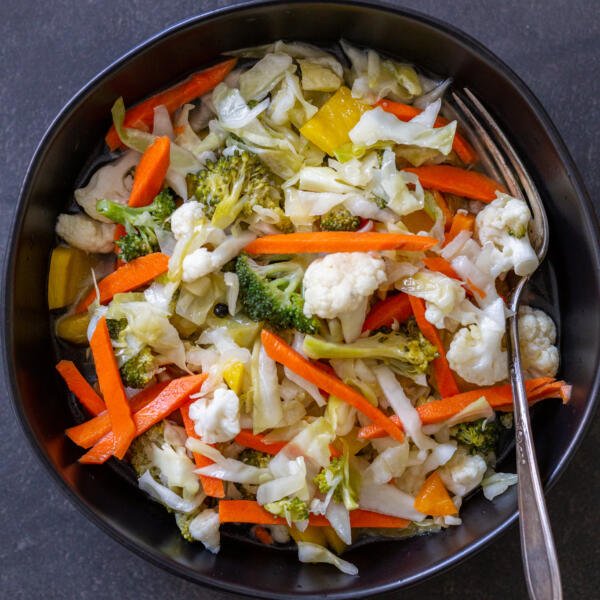 There's no better way to use cucumbers than this decadently creamy and herby salad. Perfect for your next BBQ!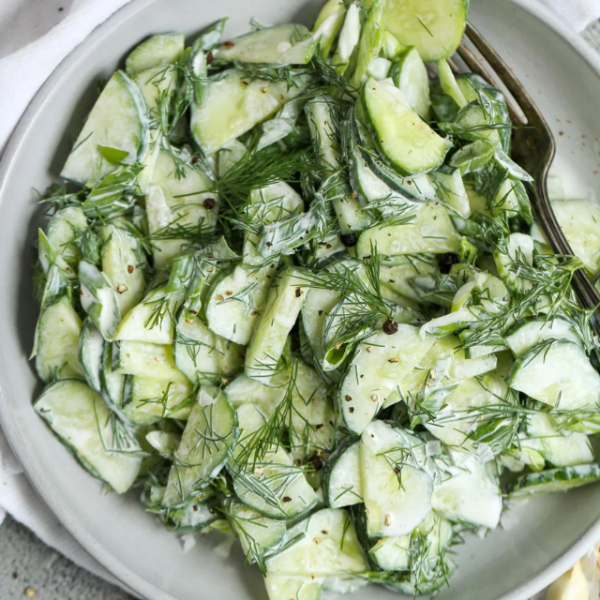 Beets and goat cheese go together like peanut butter and jelly…that's just a fact! Throw in tangy dried cranberries, and it's game over. Perfect for a fall dinner party or as a part of your holiday spread.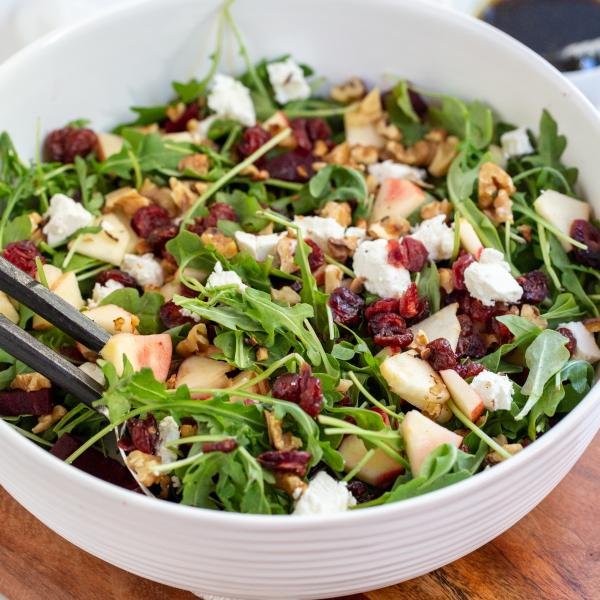 This kale quinoa salad is such a vegetarian powerhouse, it could have easily fit into the "Filling Dinner Salads" category. You'll love the combo of hard-boiled egg, avocado, and nutty quinoa.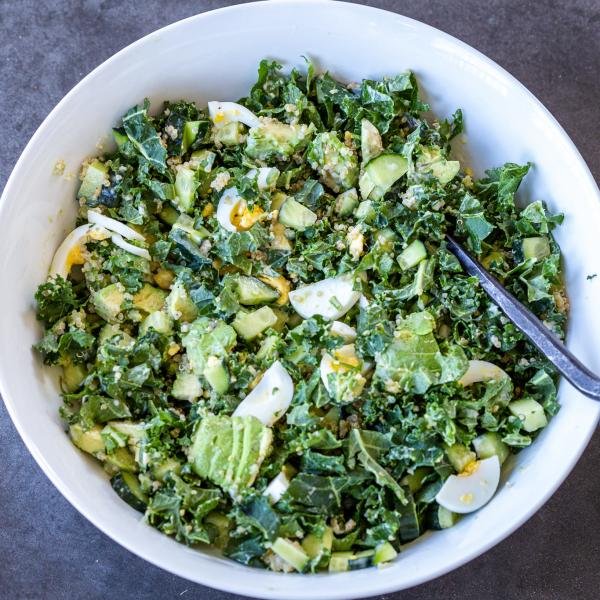 This is one of those salads that's good with every single forkful. Fresh, healthy, and full of texture!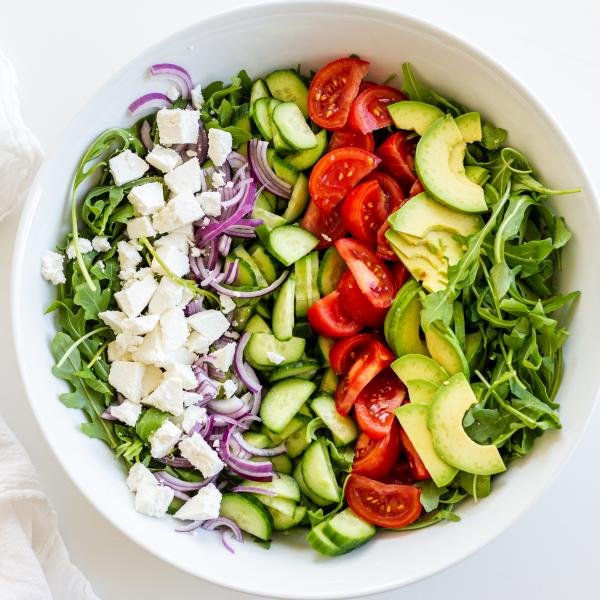 This salad is somewhere in between a salsa and a dip and can be used in so many different ways. The perfect trifecta of corn, avocado, and black beans!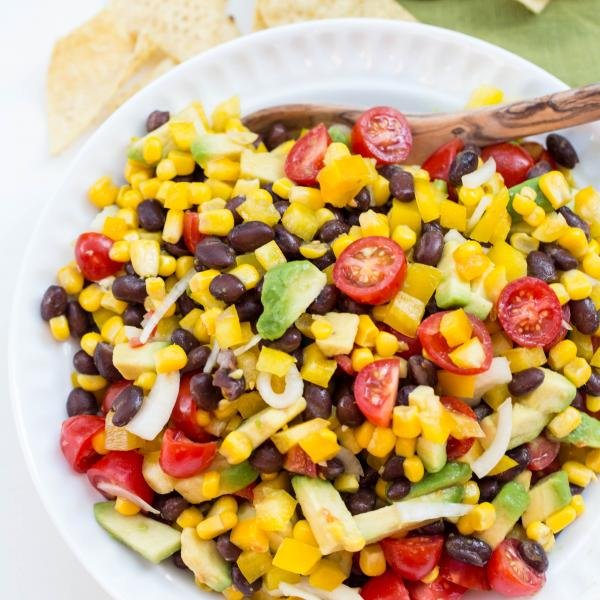 If you love texture, this salad is for you! You'll crunch your way all the way to the bottom of the bowl.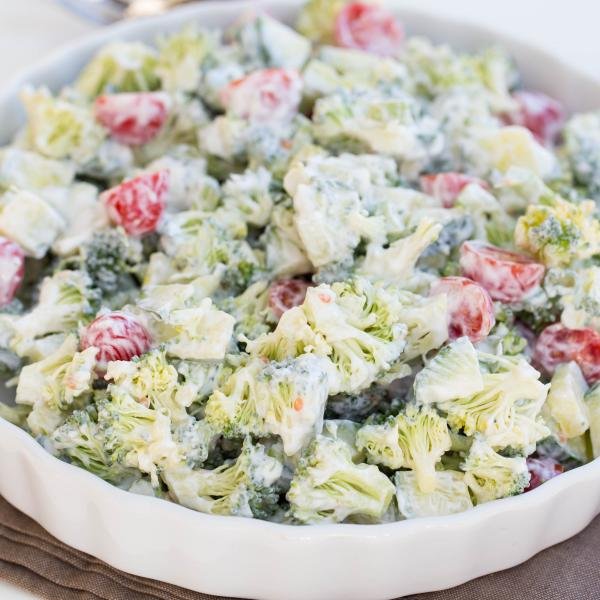 This is one of our all-time favorite winter salads! The crunchy brussels are elevated to the next level with salty bacon bits, garlic parsley salt, and parmesan cheese.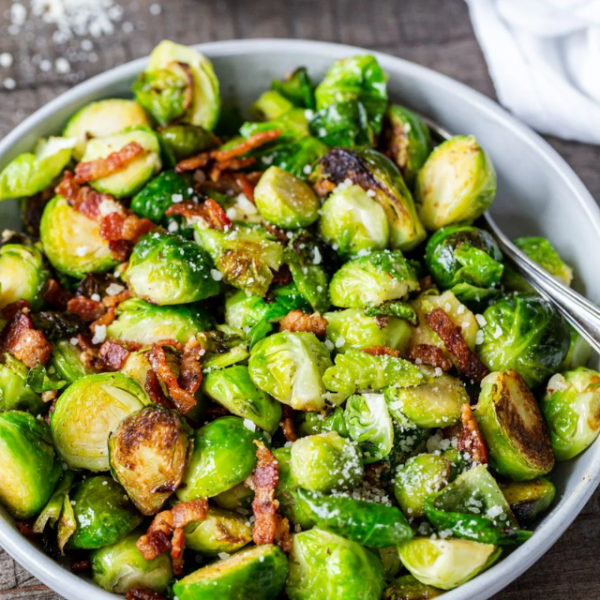 Fruity Salads
Pomegranate seeds brighten this kale, quinoa, cucumber, and tomato salad. You'll love the tangy avocado oil dressing that wraps everything together!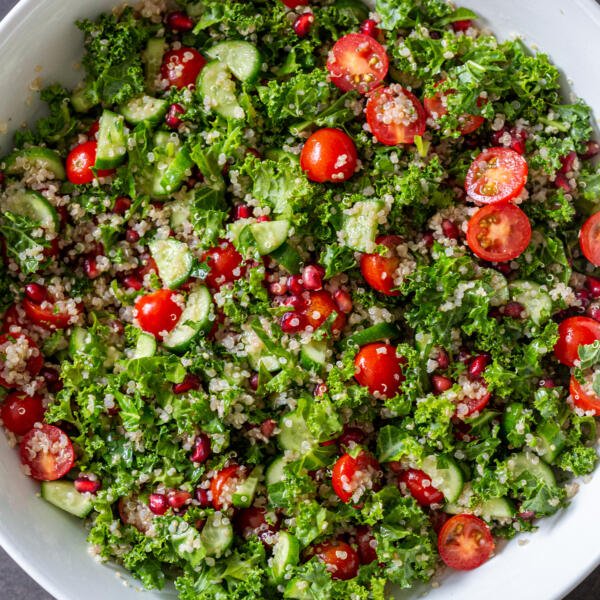 If you haven't tried burrata yet, you're in for a treat. A close cousin to mozzarella, it's crazy decadent and perfectly paired with balsamic vinegar and peach slices.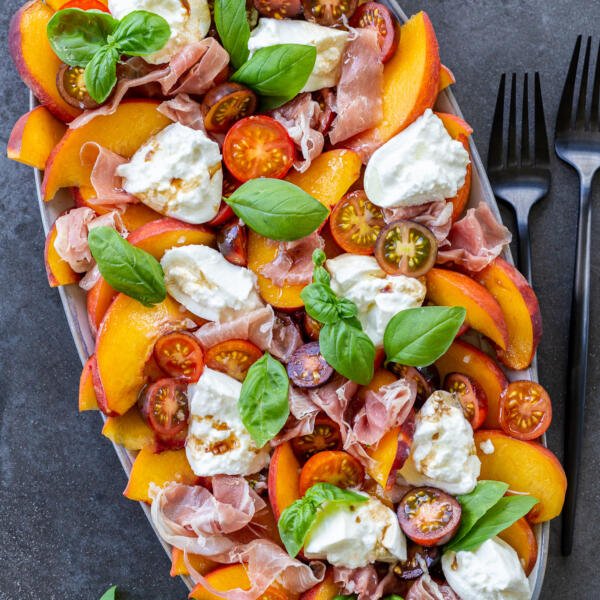 Thin slices of ham are complemented by apple, goat cheese, and red onion. Unique and effortlessly classy!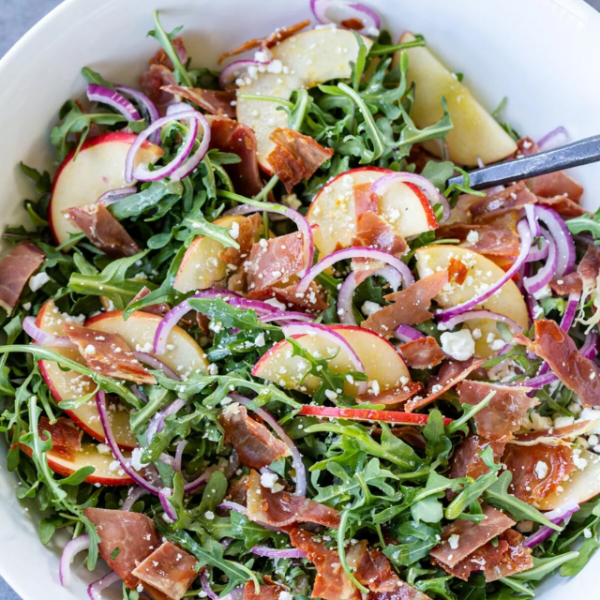 Another beet and goat cheese salad for the books – this time with crunchy apples. What's better? The roasted beets add so much wonderful texture to the mix!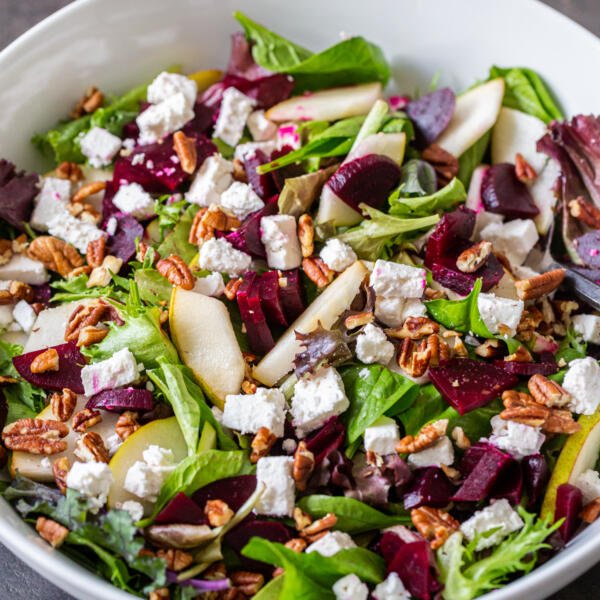 This salad is so beautiful, it's almost hard to eat (…almost). The tangy oranges take it to the next level.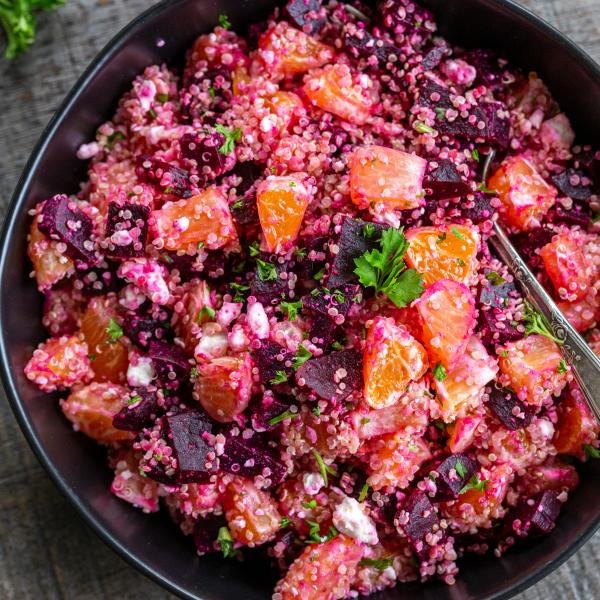 This simple salad of fresh strawberries, blueberries, pecans, and feta cheese makes for such a wonderful bite.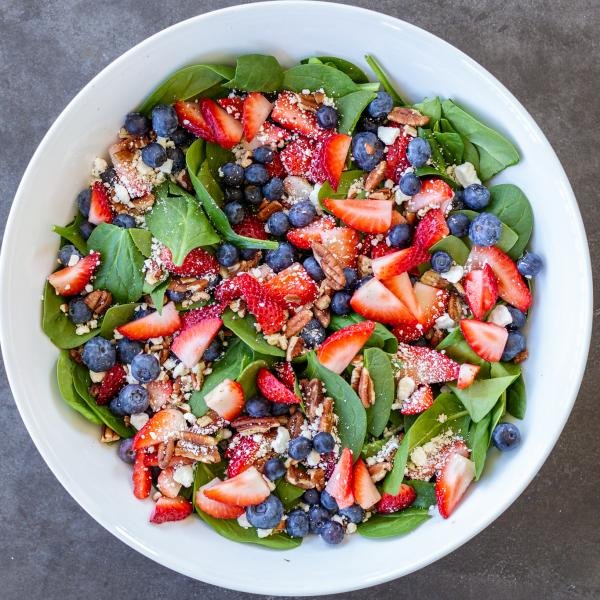 Pasta Salads
This salad features all the elements of a classic caprese (tomatoes, fresh basil, and mozzarella) tossed with tender noodles. Perfect for your next family potluck or work party!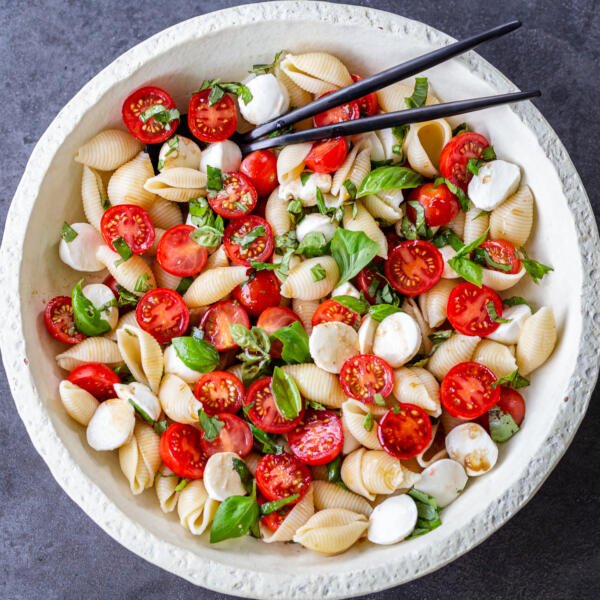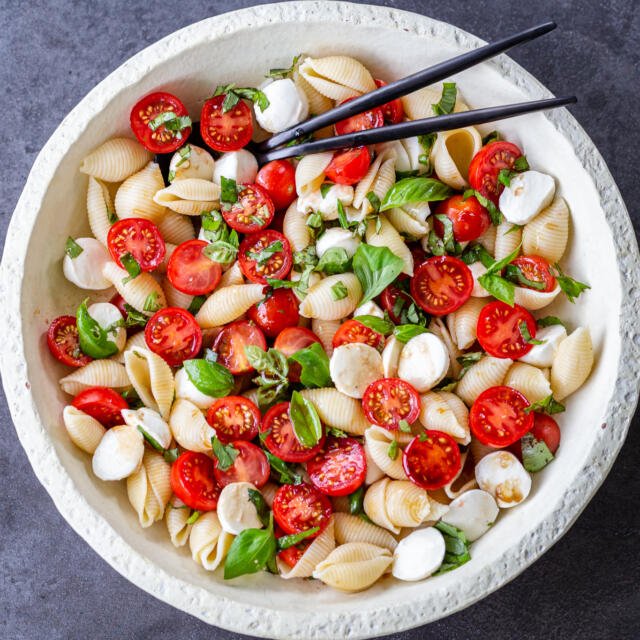 This pasta salad is a legit flavor explosion! Salami, mozzarella cheese, tomatoes, and cucumbers make it hard to put down.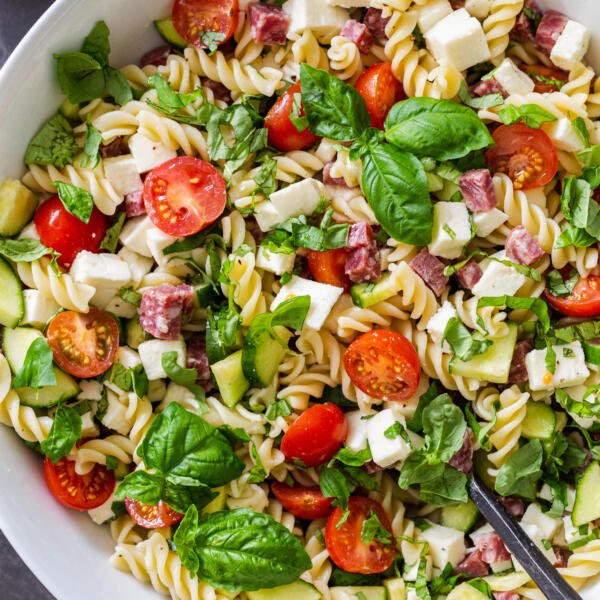 Filling Dinner Salads
This salad is a fun spin on a traditional chicken cobb. Made with canned tuna, it comes together in minutes and is so satisfying (hello, tasty work lunches!).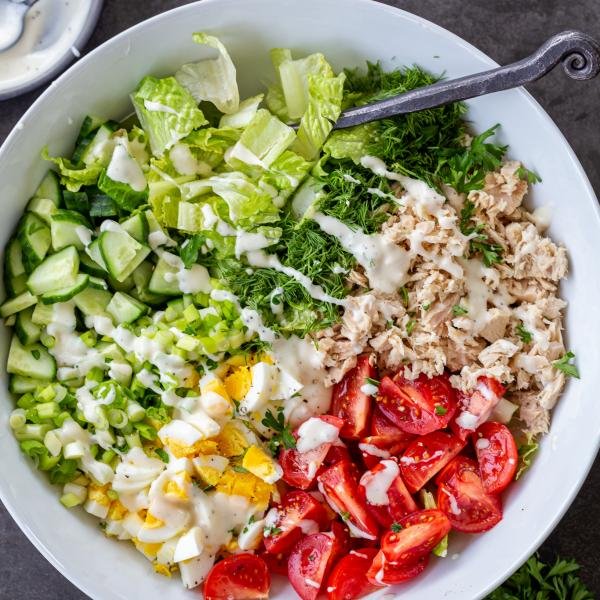 This salad features avocado and chicken nestled in warm, flour tortilla bowl (it's not fried, but baked until nice and soft!). The finishing touch? A dollop of tangy sour cream.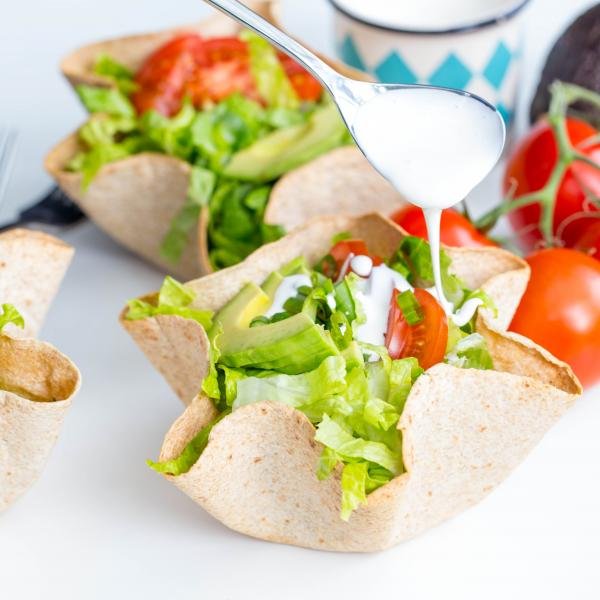 Roasted sunflower seeds and bacon bits take this salad from a side dish to an entree (unless you want to serve it as a side dish that is). Full of crunchy texture!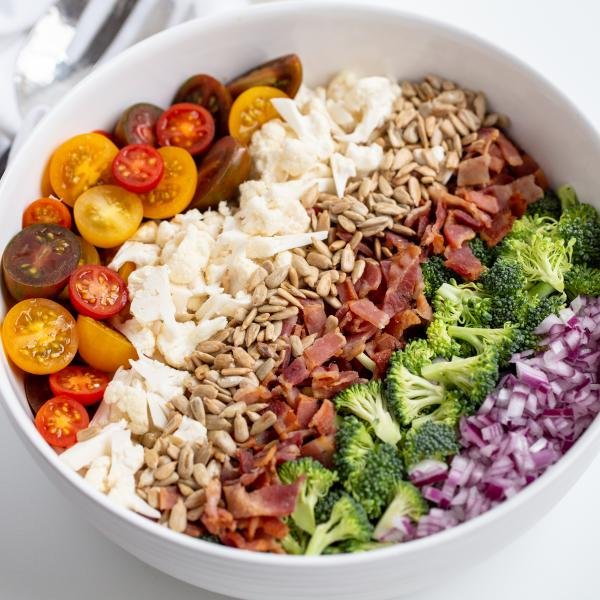 Consider this salad a deconstructed burrito. It features grilled chicken or beef, avocado, tomatoes, beans, cheese, and salsa. Yum!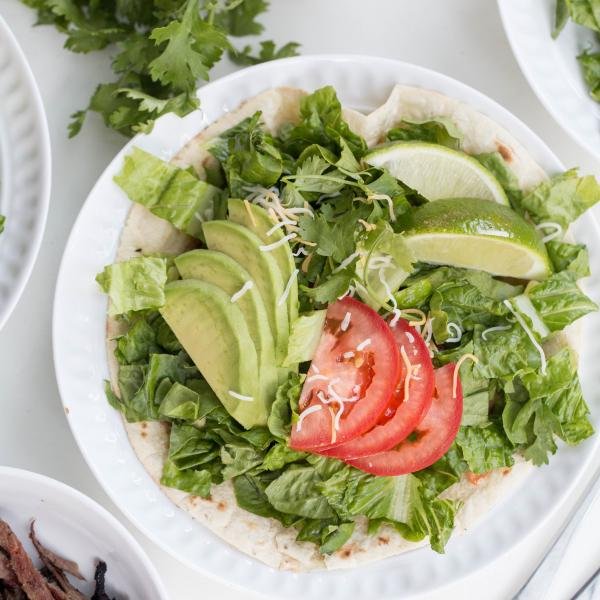 If you want to throw an exciting salad into your rotation, this is it. A perfect symphony of black beans, corn, creamy avocado, red peppers, and tuna tossed in a spicy ranch dressing.
This salad features grilled chicken tossed with our famous China Coast dressing. Filling, refreshing, and just right.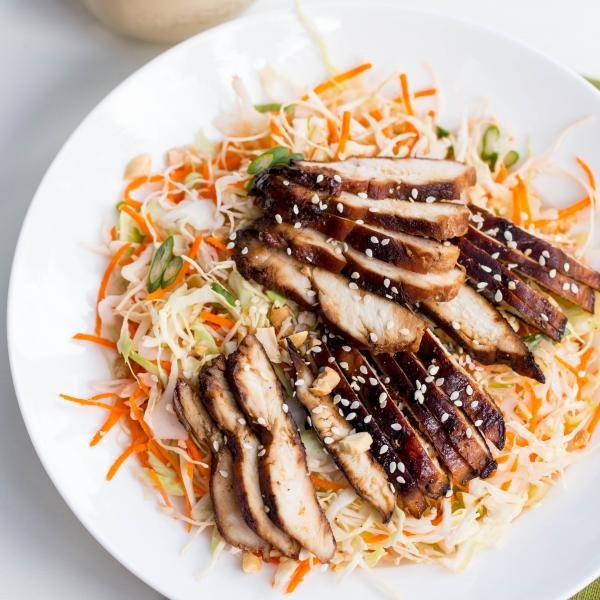 ​The simple combination of shrimp and bacon will have you wondering how a salad can be so tasty. Great for a quick and filling light lunch!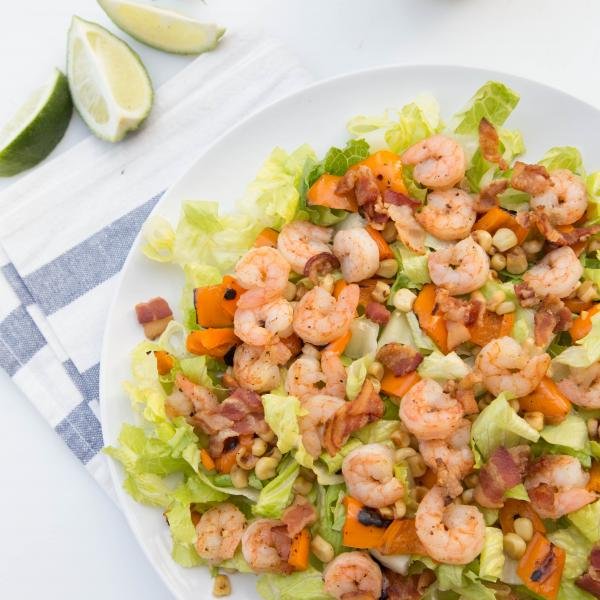 Russian/Ukrainian Salads
This fancy, Slavic salad is a special occasion staple. It features beautiful layers of herring, beets, potatoes, carrots, onion, and hard boiled egg. A must-try!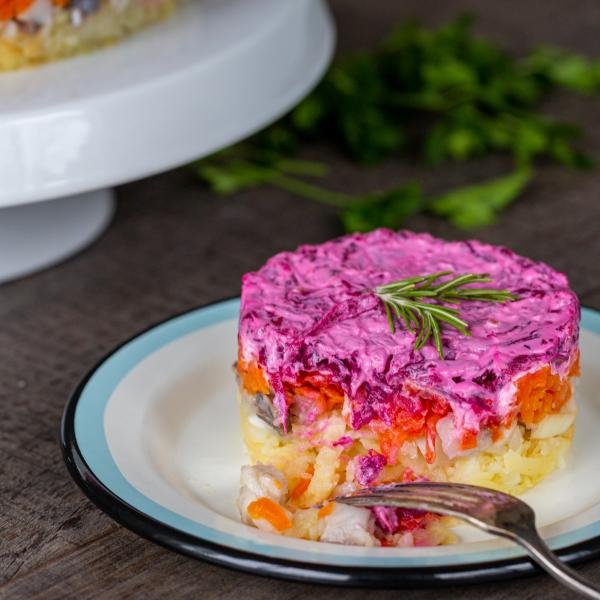 If you love American-style potato salad, you must try this recipe for olivier. It's packed with peas, carrots, hard boiled egg, bologna, and pickles all tossed in a creamy, lemony dressing.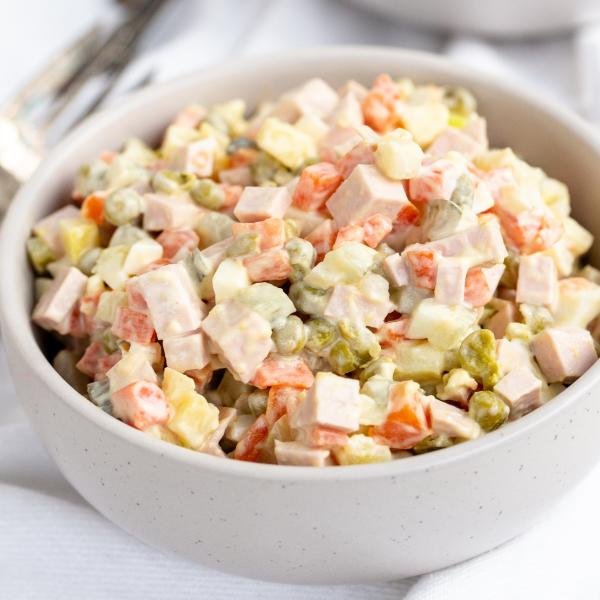 Calling all garlic lovers! This one is for you. Shredded beets are tossed with 8 garlic cloves (yes, 8!) for the perfect side dish to keep the vampires away.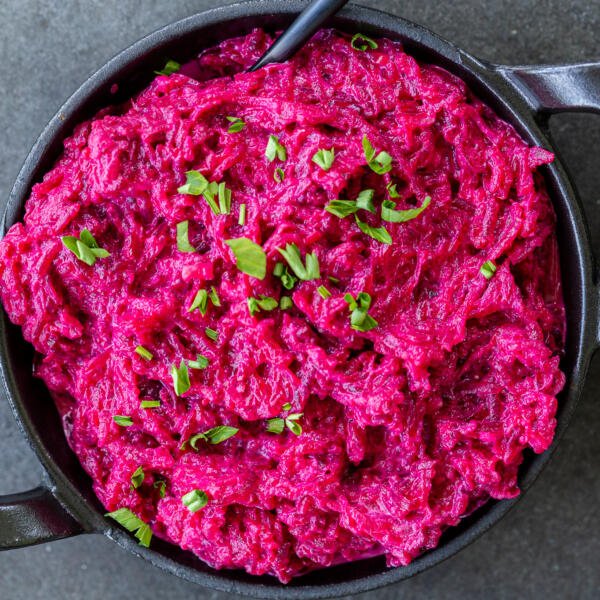 This salad is bright, beautiful, and full of flavor. It features chunks of beets, carrots, and potatoes tossed in a tangy dressing.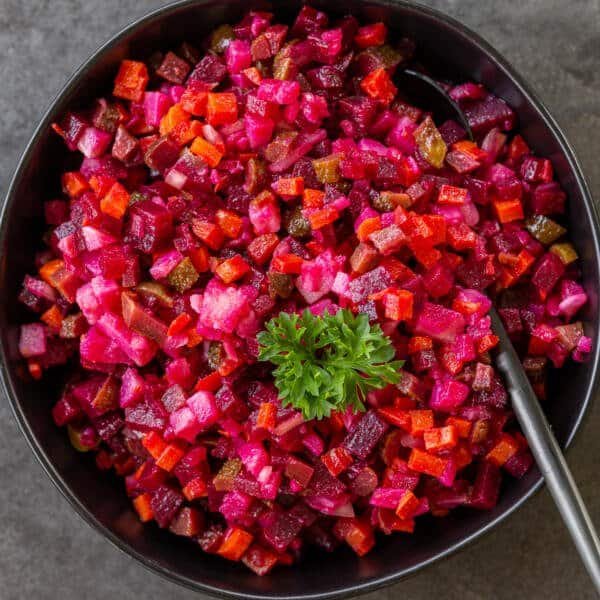 This refreshing salad is packed with onions, tomatoes, and tangy olives. Serve it alongside a bratwurst and sit back and relax!