Meet the simplest, yet finest way to cook tilapia. This pan-fried fish is covered in a flavorful 4-spice dry rub and fried to perfection. It's simply ah-mazing!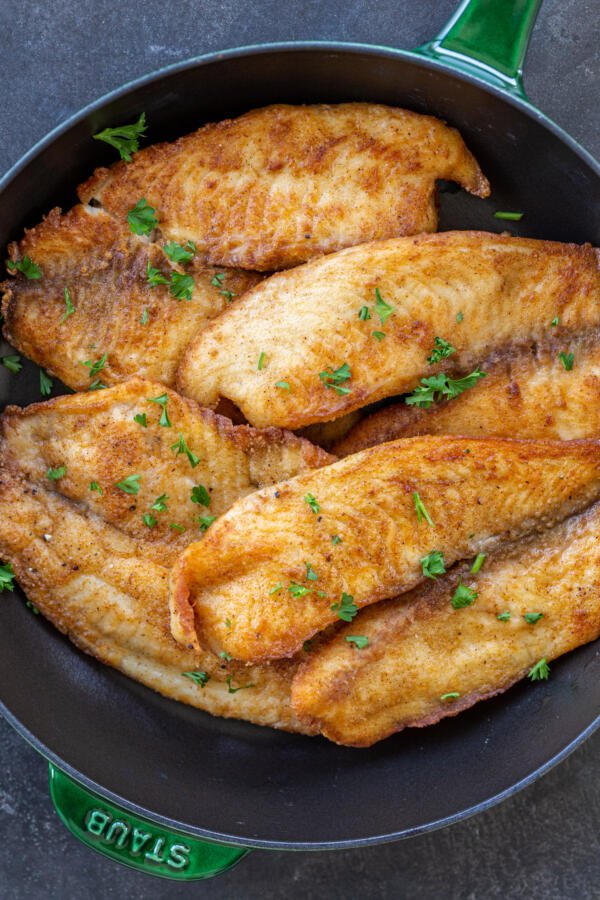 What is Pan Fried Tilapia?
Pan fried tilapia is a seafood dish that consists of crunchy fried tilapia fillets that are individually seasoned in a flour rub. This recipe transforms bland, raw tilapia fillets into a deliciously juicy, and crispy fish in less than half an hour.
Tilapia is one of the healthiest freshwater fish options readily available in almost any grocery store. It's low in fiber, carbohydrates, and cholesterol, but high in protein. It has such a mild flavor that even those who don't usually like fish or seafood love tilapia.
If you can't think of what to make for dinner or you're running low on time, this pan fried tilapia recipe is the answer. Use fresh or frozen tilapia (you know — that stash in your freezer) and you've got yourself a quick dinner and lunch the next day.
How to Pan-Fry Tilapia
Pan frying tilapia might sound intimidating, but with these four simple steps, you have nothing to fear.
Want to use frozen tilapia? Quickly thaw frozen fillets by submerging them in cold water. When fully thawed, remove any excess moisture by patting the fillets dry with a paper towel. This helps the coating stick better.
Tips From the Kitchen
Pan-fried tilapia is crazy easy to make, but to ensure that your tilapia consistently stands out, follow these six basic tips.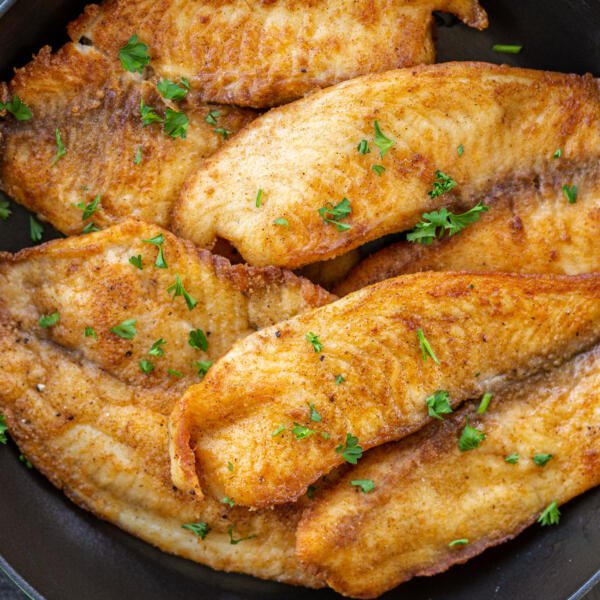 How to Serve Fried Tilapia
Fried tilapia is incredibly versatile and can be served with anything you have on hand. For an easy and simple vegetable side that takes minimal time, try air fryer broccoli or marinated cucumbers. To round out your meal, make some herb baby potatoes, basmati rice, or orzo pasta. Or serve a top a salad like Israeli couscous salad. On the other hand, flake the tilapia and place it into tortillas to make fish tacos. Top it with your favorite sauce and ingredients like cilantro, corn, avocado, pickled jalapeños, or tomatoes.
If you love sauces, add tzatziki sauce to the side or a dollop on top of your fish. You can even make an open-faced fish sandwich with a slice of almost whole wheat sourdough bread, a layer of tzatziki, mayo, or tartar sauce, and a fillet of fried tilapia.
Storing and Reheating Pan Fried Tilapia
For the maximum amount of tenderness, crisp, and best taste, enjoy pan fried tilapia right away. In case of leftovers, here are some tips to store and reheat the remaining tilapia.
FAQ
How long do I pan fry tilapia?
Cooking time may range when pan-frying tilapia, depending on the thickness of the fillet. Fry each side about 2-3 minutes until the fish becomes opaque, flaky, and crispy on the outside. The internal temperature should be 145°F.
What kind of pan should I use to pan fry tilapia?
The best type of pan for frying tilapia or any fish is a non-stick pan. Tilapia and other fish tend to become very flaky when cooked. A nonstick pan will pan fry the fish without it sticking too much and falling apart.
How do I keep my tilapia from falling apart when I fry it?
To keep your fish from falling apart, use a large enough nonstick spatula for flipping and a nonstick pan to avoid the fish from sticking to the pan. Avoid overcooking fish or steaming fish on low heat, but rather pan-fry on medium-high heat until just cooked through.
More Fish Recipes That Will Have You Hooked
Recipe
Meet the simplest, yet finest way to cook tilapia. This pan-fried fish is covered in a flavorful 4-spice dry rub and fried to perfection. It's simply ah-mazing!
Nutrition Facts
Pan Fried Tilapia Recipe
Amount Per Serving
Calories 325
Calories from Fat 117
% Daily Value*
Fat 13g20%
Cholesterol 113mg38%
Sodium 1282mg53%
Potassium 728mg21%
Carbohydrates 5g2%
Protein 46g92%
Vitamin A 576IU12%
Vitamin C 0.02mg0%
Calcium 29mg3%
Iron 2mg11%
* Percent Daily Values are based on a 2000 calorie diet.